1st time host farmers
We realise that the thought of opening your farm for LEAF Open Farm Sunday can raise a lot of questions, so here we have tried to give you some answers and guidance on holding an event for the first time.
What is
LEAF

Open Farm Sunday?

LEAF Open Farm Sunday gives you the opportunity to welcome the public onto your farm and show them what farming is all about, so that visitors can fully appreciate and value the work you do. It was set up in 2006 and continues to be managed by LEAF (Linking Environment And Farming).
What do I have to offer?
Every farm has a story to tell – your work on the farm, the crops you grow and what they are used for, the seasonality of produce, the journey of your product from farm to fork (or however it impacts on our lives eg. fuel), your farm machinery, how you manage your soil, water and habitats for wildlife, the history of your farm. Your visitors will be fascinated to learn about the everyday activities you do on the farm.
Why would I take part?
Research shows that getting people out onto a farm to meet a farmer and see real farming up close has a huge positive impact: changing people's attitudes to buying more British produced food; building community relations; educating the public, raising the profile of your farm and the whole farming industry.
Now, more than ever, farmers need to gain public support for the vital work you do and LEAF Open Farm Sunday provides the ideal platform to do just this. Join hundreds of farmers across Britain and take part in the farming industry's annual open day.
This website has lots of information to help you start thinking about organising an event for LEAF Open Farm Sunday. Make sure you register your event then you will receive the Open Farm Sunday Handbook packed with lots of hints and tips to help you organise an event.
Interested, but not ready to register yet?
If you're keen to host an event, but you're not ready to register yet, why not sign up to our mailing list at the foot of this page and we'll keep you up to date with our plans, and give you an occasional nudge to help you get started!
Take part…
If you have any questions or want to speak with an experienced host farmer please get in touch with LEAF: 024 7641 3911 [email protected]. When you're ready, please register your event here.
Do you want to talk it through?
Do you have questions or would like to know more? We'd be happy to help so please call the LEAF office 024 7641 3911 or email us: [email protected].

What host farmers said…
"Awesome result. We found that people are genuinely interested in what we do."
"Best ever Open Farm Sunday. Farm was packed. Lovely atmosphere."
"A fantastic event with a steady flow of visitors throughout the day. Really positive feedback from young and old. A great community relations' event, and helps to improve the public's understanding of agriculture."
"It was a good opportuntiy for people who are aware of our farm and have heard of us to actually come and visit and get closer to the animals."
What visitors said…
"The technology now for milking cows is amazing! I had no idea!"
"That all the brussels sprouts grown had already been sold - all 48 acres of them!"
"The role of robotic milking, feeding the animals, reproduction of pigs, anatomy of a cow, sheep shearing and price of its coat - it was endless - I learnt so much!!!"
"How much

LEAF

Marque farmers do to help the environment."
"Some of the equipment is so expensive that it is shared."
"Just how farmers really pull together to make these events as great as they possibly can."
"To sum it up in one sentence - a phenomenal and educational day out. Girls and me would come again."
The essentials
As a LEAF Open Farm Sunday host farmer, we ask you to:
Showcase to visitors good farming practices, how farming impacts on our lives and how you manage our natural resources
Inform your insurance company that you are opening on

LEAF

Open Farm Sunday and have a minimum of £5 million public liability insurance cover
Complete a risk assessment before the event and ensure health and safety arrangements will be in place on the day
Provide adequate hand washing facilities especially if you have livestock or will be serving food
New resource packages
We offer 3 different sizes of resource packages for any farmer who may not be sure on what type of resources, or quantities of resources, they might use at their event.
Remember a small farm walk is just as important as a larger event.
Do what suits you and your farm…
LEAF Open Farm Sunday is completely flexible so that all farmers can get involved – whether you host a private event or public event, a farm walk or a full open day. It is up to you to decide what you are comfortable organising, what you would like to share with the public – to suit you and your farm. So, if it is your first LEAF Open Farm Sunday you can keep it as small and simple as you want.
About the visitors
Each year hundreds of visitors complete our visitor survey. Here is some insight into the potential visitors who might attend your event.
49:51 urban rural split; from: City (10%); Town (39%); Village (36%); Countryside (15%)
59% of visitors were visiting their first

OFS

event
18% of visitors had never visited a farm before
86% of visitors learnt something new during their visit
On a scale of 1 to 5, 74% of visitors rated the event as excellent (5)
The majority of visitors (69%) spend between 1

&

3 hours at the event; data: up to 1 hour 4%; 1-2 hours 36%; 2-3 hours 33%; 3-4 hours 18%; 4-5 hours 7%; over 5 hours 3%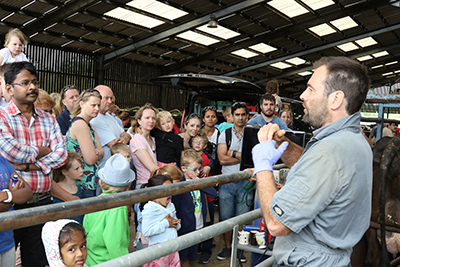 The main reasons for attending a LEAF Open Farm Sunday event were:
48% I wanted to show my support for British farmers
34% I wanted to find out more about British farming and what farmers do
25% A free day out
16% Educate/entertain family
Number of visitors per event:
Smallest

LEAF

Open Farm Sunday event had 8 visitors; the largest events had over 5000 visitors
Average 762 visitors per event
Thousands of visitors expressed their thanks to the farmers involved, calling the day "unexpected and very much appreciated", "well organised", "a phenomenal and educational day out" and "the best day out in a long time for the family".

Sign up to our mailing list(s)
You are now subscribed!
You are signed up to the mailing list(s) you selected.
If you no longer wish to receive emails from us, every email we send contains a link at the bottom allowing you to unsubscribe with one click. Privacy Policy.