Welcome to
LEAF

Open Farm Sunday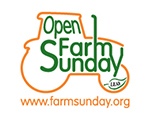 LEAF Open Farm Sunday, managed by LEAF (Linking Environment And Farming), is one of the farming industry's biggest success stories. Since the first Open Farm Sunday in 2006, over 1600 farmers across the UK have opened their gates and welcomed over 2.7 million people onto farms for one Sunday each year.
It is a fantastic opportunity for everyone, young and old, to discover at first hand what it means to be a farmer and the fabulous work they do producing our food, enhancing the countryside and all the goods and services farmers provide.
Each event is unique based around the farm's individual story. Activities during the day may include a farm walk, nature trail, tractor and trailer rides, demonstrations, pond dipping, activities for children, a mini farmers market or farm shop.
Once again, more than a quarter of a million people visited farms on LEAF Open Farm Sunday 9th June. A huge well done and thank you to everyone involved – including a big thank you to all our sponsors for their financial and in-kind support. Read all about this huge success story here:
2020 saw the launch of the first LEAF Online Farm Sunday, with action packed days of live virtual farm tours and more! Looking forwards we're pleased to be enhancing the LEAF Open Farm Sunday experience by offering two additional virtual events throughout the year. Follow the LEAF Open Farm Sunday Facebook page to be in amongst all the live action!
About
LEAF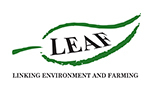 LEAF (Linking Environment And Farming) is a national charity that helps farmers improve the way they farm by encouraging them to take up Integrated Farming. LEAF also helps to create a better public understanding of farming through our national network of Demonstration Farms, Innovation Centres, LEAF Education work and initiatives like LEAF Open Farm Sunday. We bring farmers and consumers together to raise awareness of how farmers are working in harmony with nature to produce good food with environmental care, sustainably.
To find out more about LEAF's activities, becoming a member and supporting our work, visit our website here.
Sign up to our mailing list(s)
You are now subscribed!
You are signed up to the mailing list(s) you selected.
If you no longer wish to receive emails from us, every email we send contains a link at the bottom allowing you to unsubscribe with one click. Privacy Policy.