Veggie kebabs with oregano
Preparation time: 10 minutes
Cooking time: 20 minutes
Total time: 30 minutes
Serves: 6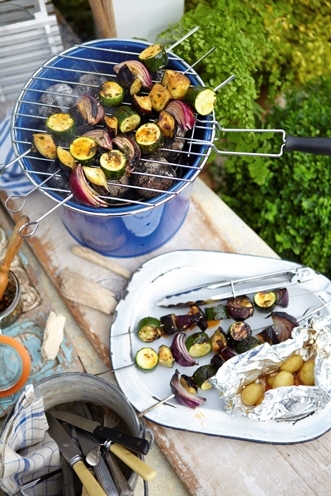 Ingredients
½ x 15g pack fresh oregano leaves, chopped
1 clove garlic, finely chopped
3 tbsp olive oil
½ - 1 tsp smoked paprika
2 aubergines, cubed
3 courgettes, each cut into 6 pieces
2 red onions, each cut into 6 wedges
1 lemon, halved and very thinly sliced
Method
1. Light the barbecue and allow it to reach a good cooking temperature. In a small bowl, mix together the oregano, garlic, olive oil and smoked paprika.
2. Thread the vegetables and lemon onto 6 long metal skewers, alternating the pieces as you go.
3. Brush the oregano mixture over the vegetables and barbecue (or cook under a preheated grill) for 15 - 20 minutes, turning regularly until tender and lightly browned.
Cook's tip
Try to ensure the vegetables are cut to roughly the same size and turn the skewers regularly (tongs are good for this), looking out for any hotspots on the barbecue so they all cook evenly.
Recipe kindly supplied by

Sign up to our mailing list(s)
You are now subscribed!
You are signed up to the mailing list(s) you selected.
If you no longer wish to receive emails from us, every email we send contains a link at the bottom allowing you to unsubscribe with one click. Privacy Policy.