Salad Potatoes with Warm Vinaigrette
Ready in 40 minutes (20mins to prepare, 20mins to cook)

Serves 4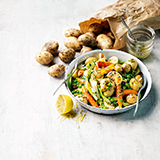 Ingredients
2 sprigs mint

500g (1lb) salad potatoes, halved if large

200g (7oz) baby carrots, scrubbed and halved lengthways

300g (10oz) peas, fresh or frozen

Bunch spring onions, trimmed and halved lengthways

For the dressing:

1 lemon, finely zested and juiced

1 tsp clear honey

6 tbsp extra-virgin olive oil

2 tsp wholegrain mustard

2 tbsp chopped chives
Method
1. Bring a large pan of salted water to the boil. Add the mint and the potatoes, then bring back to the boil and simmer for 15 minutes, or until tender. Drain and discard the mint.

2. Meanwhile, steam or boil the carrots for 2-3 minutes, until just starting to soften, then add the spring onions and peas and cook for 1 minute more.

3. To make the dressing, put all the ingredients in a small pan and gently heat for 1-2 minutes, stirring occasionally until warmed through.

4. Put the potatoes, carrots, spring onions and peas in a large serving dish and pour over the warm dressing. Toss to combine and serve.
Recipe kindly supplied by
Sign up to our mailing list(s)
You are now subscribed!
You are signed up to the mailing list(s) you selected.
If you no longer wish to receive emails from us, every email we send contains a link at the bottom allowing you to unsubscribe with one click. Privacy Policy.