Pan-fried Gloucester Old Spot pork chops with caramelised peaches, thyme and honey
Tender and flavoursome, Gloucester Old Spot pork needs little fuss, just simple good cooking. Why not enjoy with caramelised peaches, honey and fragrant thyme. Cook in a heavy based frying pan or if sunshine permits, over hot BBQ coals.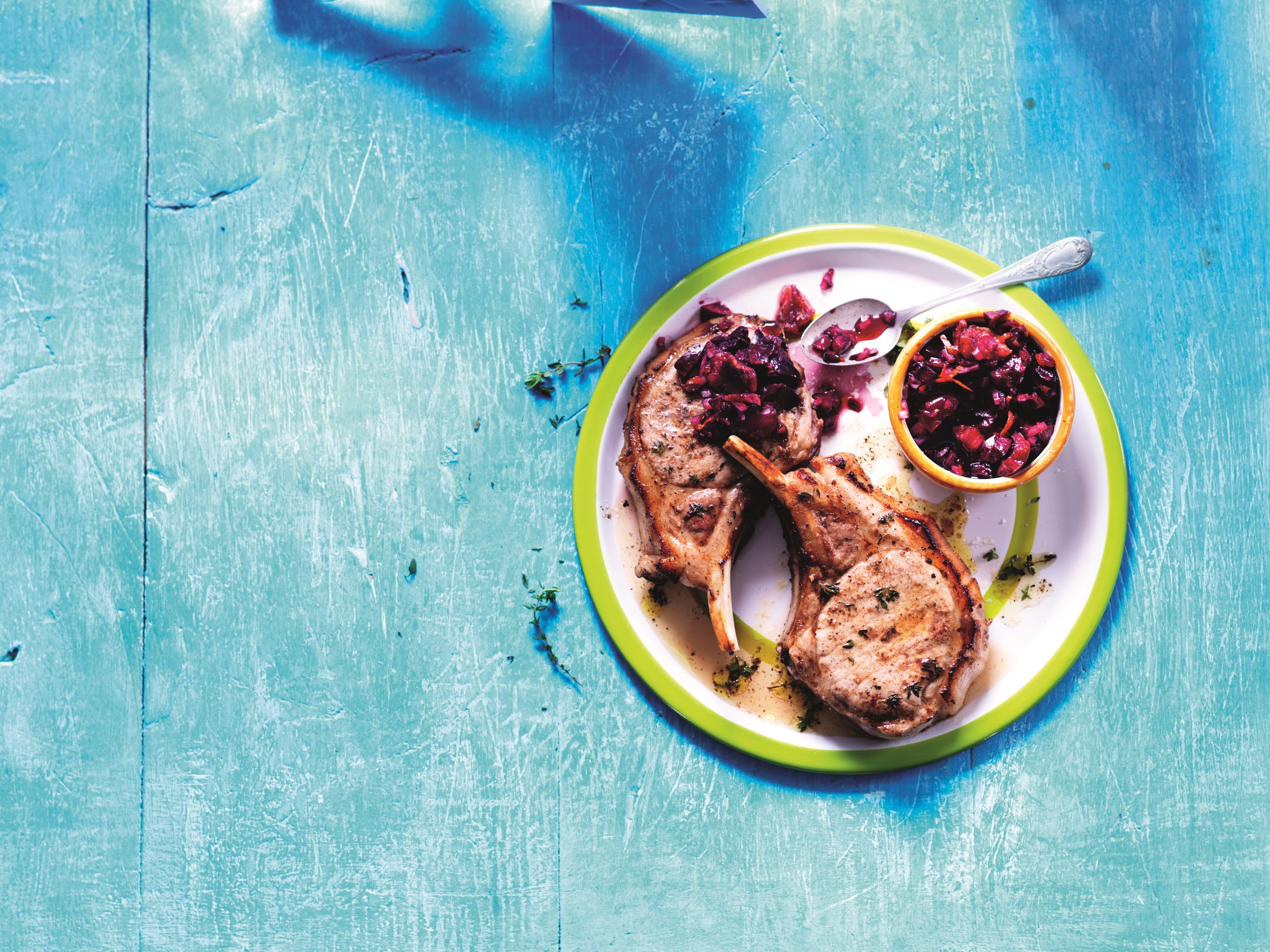 Ingredients
2 Gloucester Old Spot pork chops @ 225g

2 tbsp olive oil

2 tsp Balsamic vinegar

2 tsp runny honey

½ tsp Dijon mustard

3-4 sprigs fresh thyme

1 firm but ripe peach or nectarine, halved & stoned

Freshly ground black pepper & salt, to taste
Method
1. Measure 1tbsp olive oil into a heavy based non-stick frying pan. Place over a medium heat.
2. Meanwhile whisk the vinegar in a small bowl with the remaining oil, honey and mustard. Strip 2 sprigs thyme leaves into the dressing. Season to taste and set aside.
3. Carefully place chops in the hot pan. Cook for 5 minutes on each side. Lower the heat. Brush the cut sides of the peach halves with the dressing and place face down alongside the chops to cook for a further 3-5 minutes or until the pork is tender and the peach nicely caramelised, slightly softened.
4. Let the pork rest for 5 minutes. Pour the dressing into the warm pan, use a wooden spatula to blend in with pan juices.
5. Serve each chop topped with a peach halve and drizzled with the warm thyme and honey dressing. Scatter extra fresh thyme leaves over to garnish.
Sign up to our mailing list(s)
You are now subscribed!
You are signed up to the mailing list(s) you selected.
If you no longer wish to receive emails from us, every email we send contains a link at the bottom allowing you to unsubscribe with one click. Privacy Policy.