Oriental Beef Salad
Ready in 20 minutes

Serves 4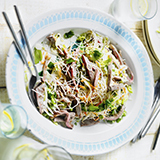 Ingredients
2 tbsp toasted sesame oil

300g pack essential Waitrose Fresh Rice Noodles

300g pack essential Waitrose Beansprouts

1 large essential Waitrose Carrot, coarsely grated (200g)

1 bunch essential Waitrose Salad Onions, sliced

28g pack coriander, roughly chopped

340g essential Waitrose Frying Steak

3 tbsp soy sauce

1 tbsp essential Waitrose White Wine Vinegar
Method
Heat 1 tbsp oil in a frying pan and fry the noodles and beansprouts, cool until cold and add the carrot, onions and coriander.
Heat the remaining oil and fry the steak for 3-4 minutes for rare or according to taste then slice. Mix the soy and vinegar together and toss into the noodles, serve topped with the warm steak.
Recipe kindly supplied by

Sign up to our mailing list(s)
You are now subscribed!
You are signed up to the mailing list(s) you selected.
If you no longer wish to receive emails from us, every email we send contains a link at the bottom allowing you to unsubscribe with one click. Privacy Policy.