Lamb with Rosemary Braised Beans
Ready in 35 minutes (15mins to prepare, 20mins to cook)

Serves 4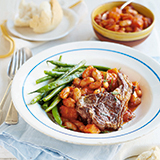 Ingredients
15ml (1tbsp) olive oil

1 large onion

2 garlic cloves

2 large carrots

1 x 500g (1.1lb) carton passata

1tbsp chopped fresh rosemary

Small pinch sugar

1 x 400g (13oz) tin cannellini beans

4 lamb chops
Method
1. Heat the olive oil in a heavy-based pan. Add the onion, garlic and carrots and cook over a medium heat for 8-10 minutes, stirring occasionally, until softened. Stir in the passata, rosemary and sugar, then season. Partially cover the pan and simmer for 10 minutes. Stir in the cannellini beans and cook for another 5 minutes.
2. Heat the grill to high. Put the lamb chops on a grill rack set over a grill pan and grill for 3-5 minutes on each side, until cooked through.
3. Spoon the vegetable and bean mixture into serving bowls and top with the lamb chops. Serve with steamed green beans.
Recipe kindly supplied by
Sign up to our mailing list(s)
You are now subscribed!
You are signed up to the mailing list(s) you selected.
If you no longer wish to receive emails from us, every email we send contains a link at the bottom allowing you to unsubscribe with one click. Privacy Policy.