Breaded Chicken and Watercress Salad
Ready in 30 minutes

Serves 4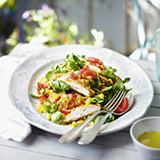 Ingredients
380g pack frozen essential Waitrose British Chicken Breast Steaks

2 x 100g bags watercress

4 essential Waitrose Tomatoes, diced

195g can essential Waitrose Sweetcorn, drained

2 tbsp olive oil

1 tbsp essential Waitrose White Wine Vinegar

1 tsp essential Waitrose English Mustard
Method
1. Preheat the oven to 200oC, gas mark 6.
2. Place the chicken on a baking tray and bake for 25-28 minutes. Cut into thin slices.
3. Meanwhile, mix together the watercress, tomatoes and sweetcorn in a large serving bowl.
4. Whisk the oil, vinegar and mustard together and toss into the salad with the sliced chicken.
Recipe kindly supplied by

Sign up to our mailing list(s)
You are now subscribed!
You are signed up to the mailing list(s) you selected.
If you no longer wish to receive emails from us, every email we send contains a link at the bottom allowing you to unsubscribe with one click. Privacy Policy.