Braised Lettuce and Peas with Lemon and Chive
Ready in 20 minutes (5mins to prepare, 15mins to cook)

Serves 4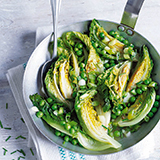 Ingredients
30g (1 1/4oz) butter

6 spring onions, trimmed and sliced

2 little gem lettuces, quartered lengthways

1 romaine lettuce, quartered lengthways

100ml (31⁄2fl oz) vegetable or chicken stock

150g (5oz) peas, fresh or defrosted if frozen

2tbsp lemon juice

Handful chives, chopped
Method
1. Melt the butter in a large pan. Add the spring onions and cook for 5 minutes, until softened but not coloured.
2. Add the lettuce and cook for 3 minutes, then add the stock and peas and braise for a further 5 minutes.
3. Stir in the lemon juice and season, then scatter over the chives. Serve with roast meat or fish.
Recipe kindly supplied by
Sign up to our mailing list(s)
You are now subscribed!
You are signed up to the mailing list(s) you selected.
If you no longer wish to receive emails from us, every email we send contains a link at the bottom allowing you to unsubscribe with one click. Privacy Policy.