Asparagus, pea and broad bean risotto
Preparation time: 15 minutes
Cooking time: 25 minutes
Total time: 40 minutes
Serves:4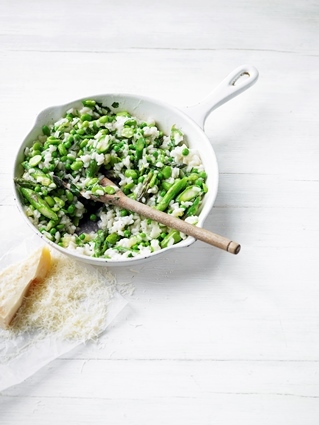 Ingredients
175g fresh broad beans, double-podded (optional)
175g fresh peas
150g asparagus, trimmed and cut into 3cm lengths
1 chicken or vegetable stock cube
1 onion, chopped
1 celery stick, chopped
250g Cooks' Ingredients Carnaroli Risotto Rice
75ml vermouth or dry sherry
3 tbsp grated Parmigiano Reggiano
25g butter
25g pack flat-leaf parsley, chopped
Method
1. Add the beans, peas and asparagus to a pan of simmering water and cook for 3 - 4 minutes until just al dente. Drain and reserve the water. Use this water and the stock cube to make up 1.2 litres of stock, and keep it simmering in a pan.
2 Put the onion and celery in a medium non-stick pan. Cook over a medium heat for 3 minutes until soft and golden. Add the rice and stir for 1 minute, then the vermouth or dry sherry. Add the stock a ladleful at a time and keep stirring until each one is absorbed. This will take 15 - 20 minutes.
3 When the rice is almost tender, add the beans, peas and asparagus and cook for a couple of minutes to heat through. Stir in the cheese, butter and parsley off the heat nand season to taste.
Recipe kindly supplied by

Sign up to our mailing list(s)
You are now subscribed!
You are signed up to the mailing list(s) you selected.
If you no longer wish to receive emails from us, every email we send contains a link at the bottom allowing you to unsubscribe with one click. Privacy Policy.