Asparagus and Lemon Vinaigrette
Ready in 15 minutes (10mins to prepare, 5mins to cook)

Serves 4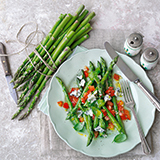 Ingredients
500g (16oz) asparagus, trimmed
5 plum tomatoes, deseeded and finely chopped
1 shallot, finely chopped
1 garlic clove, finely chopped
3tbsp extra virgin olive oil
1/2 lemon, juiced
50g (2oz) blue cheese, crumbled
Small handful basil leaves, to serve
Method
Blanch the asparagus in boiling, salted water for 1-2 minutes. Drain, then rinse in cold water and pat dry. Divide the asparagus between four plates or arrange on a platter.

In a small bowl mix the tomatoes, shallots, garlic, olive oil and lemon juice and some seasoning, until combined. To serve, pour the tomato mixture over the asparagus and top with the crumbled cheese and basil.
Recipe kindly supplied by
Sign up to our mailing list(s)
You are now subscribed!
You are signed up to the mailing list(s) you selected.
If you no longer wish to receive emails from us, every email we send contains a link at the bottom allowing you to unsubscribe with one click. Privacy Policy.