Jamie McCoy, Gorwel Farm
Jamie McCoy and her partner Deian Evans run Gorwel Farm in Bryngwyn, West Wales. Gorwel is a family farm, milking 170 dairy cows on an autumn calving grass-based system, they have a flock of 150 commercial sheep, and a very small pig enterprise. Jamie also works off the farm for AHDB Dairy supporting dairy farmers to improve business competitiveness and is our LOFS Coordinator for Wales. Here is her story…
Mixed farm
Community Connections
For us, a big part of deciding to take part in LEAF Open Farm Sunday was to connect with our local community. Although we live in a rural area, many people are unaware of what goes on in the fields around them. Without a village shop or pub, there is no natural place for people to convene. So, LEAF Open Farm Sunday was a great opportunity for us to create an event for the whole community and bring them closer to farming.
Our biggest concern was whether people would actually come along! Living in rural West Wales, we thought that everyone would have a connection with farming so why would they come to a farm open day! Being a pastural farm, we also wondered whether we would have enough to show people. How wrong we were! We spoke to lots of people beforehand who assured us that it didn't matter how basic the day was, for visitors it was something different to do. So, we decided to take the plunge and I am so glad we did.

Sharing our Story
We wanted to show the realities of running a small, mixed farm. We put on milking demonstrations, a static machinery display, had a simple nature table with binoculars for people to use, visitors were also able to get close to our sheep and calves and sit on a tractor – a huge hit with both children and parents!
Helping people make the connection between what happens on a mixed farm in West Wales and what they see on the supermarket shelves, was a big motivation for getting involved in Open Farm Sunday. As we supply our milk to Arla, we had an Arla tasting table just outside the milking parlour so when visitors had seen the cows being milked, they could taste some of the products that our milk is turned into!
We also ran a small café and cooked pancakes, so people could see the raw ingredients and taste the finished product – again, a really powerful way to help people make that vital food and farming link.
Flying the flag for British Agriculture
For us, doing LEAF Open Farm Sunday was all about reaching out to our local community and that is exactly what it has enabled us to do. Hand delivering the invitations, making contact with neighbours and telling them about our event was really rewarding. I think knowing that we were putting on a free community event sent out a very powerful message. Farming neighbours who attended also said how much they valued seeing people they didn't have regular contact with. This is so important in a small rural community.
There were many special moments on the day. Seeing people's faces light up when they were with the animals and experiencing their sense of wonder at what we do was quite memorable. One little girl asked whether dolphins lived in the slurry tank - a strong reminder that even in rural areas, there is a real need to raise awareness of farming and food production.
Our local community now know us, we're no longer those people just sitting in the tractor! They have an understanding of what we do, what's going on in the fields, how much we prize animal health and welfare, the level of technology on the farm, know what I am doing when they see me walking around with the plate meter. We have an ongoing relationship with them – all year round. It has definitely given us 'Brownie points' for those difficult times in the year when we are spreading slurry on a Sunday afternoon!

Lessons Learnt
Overall everyone that came had a really good day out and we will definitely be getting involved each year. We're now turning our minds to what we could do differently next time. Here's our five key lessons:
Briefing helpers – it is essential that key people are available to answer questions; briefing them thoroughly beforehand on what you expect on the day and the key messages you want to convey to visitors is so important.
Timed Tours – everyone needs to go home having had their questions answered so I would arrange tours for designated times and make sure visitors got some one-to-one time with me and my partner as we are the ones that know the story of this farm.
Tracking numbers – we found it hard to keep track of exact visitor numbers as the farm is so open - some people were able to sneak in! We opened between 12 and 4:30pm and estimate we had 120 visitors. Next time, we will keep a better track of visitor numbers by creating a bottle neck at the entrance and registering visitors on arrival.
Freshen it up – visitors need to be enticed to visit again so it's good to look at ways to keep your event fresh by putting on new activities as well as retaining some core features. Next time, we're looking at running a welly wanging competition and brining in a local baking school to make dough and tell the grain to bread journey.
Photography – take lots of photographs and delegate this job to someone specific so it happens.
LEAF Open Farm Sunday provides a fantastic opportunity to give back to your community and what better excuse to give the farm a deep clean and have a deadline to work to. Get involved, enjoy it and fly the flag for British Agriculture!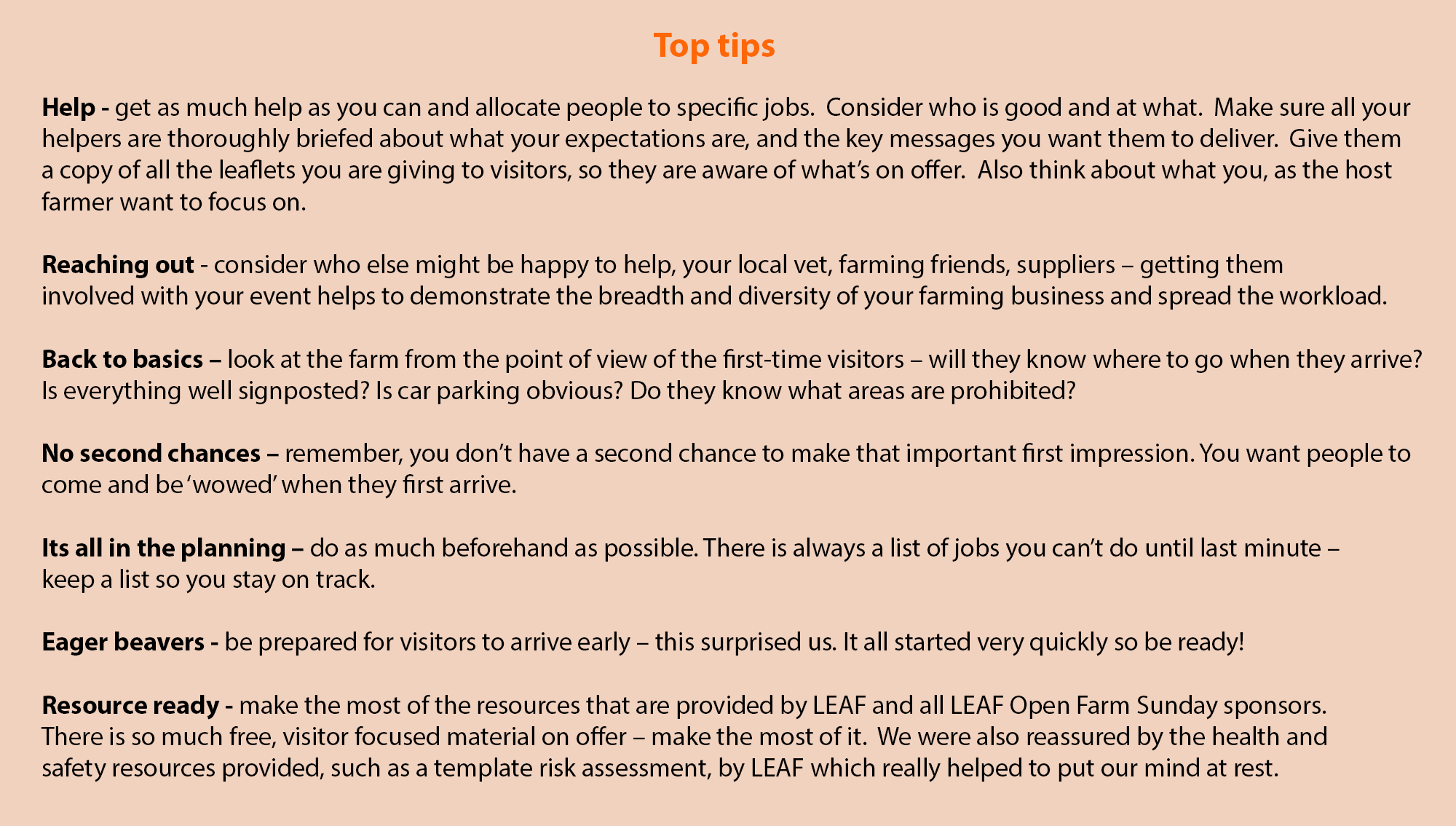 Sign up to our mailing list(s)
You are now subscribed!
You are signed up to the mailing list(s) you selected.
If you no longer wish to receive emails from us, every email we send contains a link at the bottom allowing you to unsubscribe with one click. Privacy Policy.