Teresa Pickworth, Whitacre Hall, Coleshill, West Midlands
Teresa Pickworth and her husband Carl farm Whitacre Hall, near Coleshill in the West Midlands. The 380 acre arable farm is working towards gaining mid-tier stewardship, with ancient woodland, ponds and traditional English bluebells just some of the features on the farm which they want to share with visitors. They took part in LEAF Open Farm Sunday for the first time in 2017.
380 acre arable farm | West Midlands | 1000 visitors
Putting us on the map
We have been explor­ing diver­si­fi­ca­tion oppor­tu­ni­ties for some time – par­tic­u­lar­ly a tea room and nature walk. A vis­it to the Farm Busi­ness Inno­va­tion Show in Novem­ber and a chance encounter with Annabel Shack­le­ton, LEAF Open Farm Sun­day Man­ag­er, per­suad­ed us to give it a go! Ini­tial­ly we thought it would be a great way to tri­al our tea room and nature walk – basi­cal­ly to car­ry out some mar­ket research. But also, we're real­ly proud to be arable farm­ers and saw LEAF Open Farm Sun­day as a good oppor­tu­ni­ty to make peo­ple more aware of what we do and that not all farm­ers have livestock!

Ear­ly reg­is­tra­tion to focus planning
We signed up to do LEAF Open Farm Sun­day in Novem­ber to get infor­ma­tion from LEAF and it gave us a real focus. The actu­al plan­ning start­ed in March; we start­ed off cre­at­ing a map of the farm and decid­ing where we would locate all the activ­i­ties. The posters, fly­ers and ban­ners we ordered free of charge from LEAF were invalu­able. Three weeks before the event, we put the large ban­ners up in promi­nent posi­tions to catch the Bank Hol­i­day traf­fic and gave the fly­ers to local pri­ma­ry schools and the wider neigh­bour­hood. Face­book was great for pro­mot­ing the event and we also placed an advert in the local news­pa­per. This was picked up by the local radio sta­tion who came out to do an interview!
Health and Safe­ty was ini­tial­ly a bit daunt­ing, but in the end, it was real­ly straight­for­ward. We read the LEAF Host Farmer Hand­book, com­plet­ed the risk assess­ment, spoke to all our insur­ers to check pub­lic lia­bil­i­ty, hired toi­lets and hand wash­ing facil­i­ties and that was it.
Get­ting our mes­sages across
We ran two farm tours at set times. Our biggest achieve­ment was that on one tour a vis­i­tor was very anti-chem­i­cal spray­ing, but when our agron­o­mist Ross Bar­ton spoke about how we spray and man­age crops, the vis­i­tor went from being neg­a­tive to being quite pos­i­tive. The dis­cus­sion brought the whole group into the con­ver­sa­tion, but they got the mes­sage that we only spray if we absolute­ly have to do it. We antic­i­pat­ed the tours would last 45 mins, but vis­i­tors were so inter­est­ed and asked lots of in depth ques­tions that the first one was 1.5 hours long!

Increas­ing local profile
There's no doubt­ing that doing LEAF Open Farm Sun­day does require time and effort. But it is so worth­while — we had a fan­tas­tic day. The com­ments we received on the day and after­wards have been amaz­ing; one child start­ed the day think­ing their food came from Asda, he went home, with a much clear­er under­stand­ing that it starts with crops grow­ing in fields. We had planned on hav­ing 200 vis­i­tors, but because of our exten­sive pro­mo­tion­al work we had just over 1000 vis­i­tors – but amaz­ing­ly we coped extreme­ly well. Thank­ful­ly we had over-catered just in case and at 4pm on the day sup­plies ran out!
It real­ly put us on the map as many local peo­ple didn't realise we were here. We'd been in touch with our local MP and May­or for some time regard­ing our diver­si­fi­ca­tions projects – they both attend­ed on the day and I think that real­ly helped us gain sup­port for our developments.
Since doing LEAF Open Farm Sun­day, our pro­file in the com­mu­ni­ty has def­i­nite­ly increased and we've had a school come back to us to book a vis­it. We'll def­i­nite­ly be doing it again next year and hav­ing done it once, we know what to expect and we're already chat­ting about new ideas to inspire our vis­i­tors about arable farming.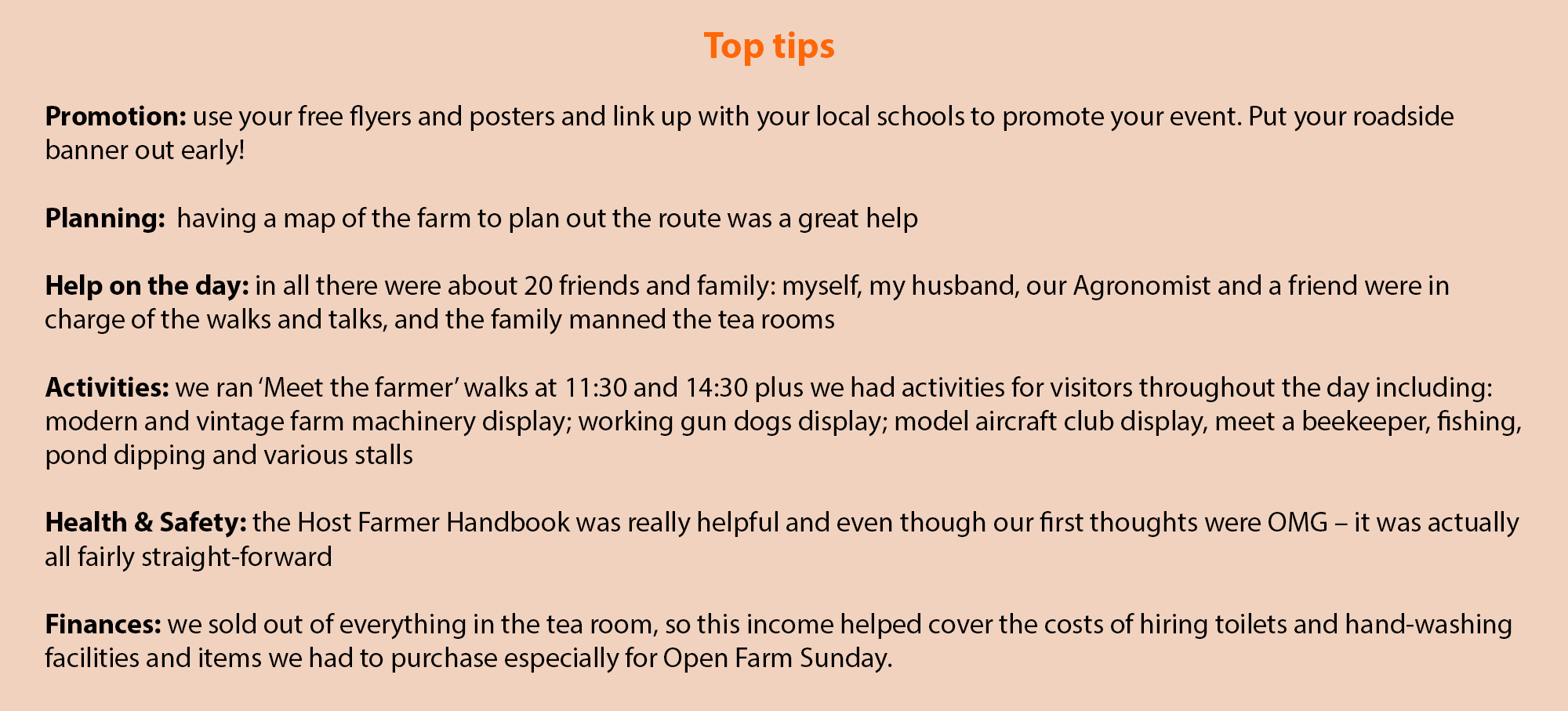 Sign up to our mailing list(s)
You are now subscribed!
You are signed up to the mailing list(s) you selected.
If you no longer wish to receive emails from us, every email we send contains a link at the bottom allowing you to unsubscribe with one click. Privacy Policy.