Nick Hendy, Langford Lakes Christmas Tree Farm, Langford Budville, Somerset
Langford Lakes Christmas Tree Farm is a family run 40 acre farm near Langford Budville in Somerset. Always looking at ways to make the business stand out from their competitors and help boost sales, the Hendy family, Reg and Ann, and their sons and daughters-in-law Shaun & Trudy and Nick & Clare, opened for LEAF Open Farm Sunday for the first time in 2017. Here Nick tells us why they decided to take part and how it has benefitted the business.
40 acre Christmas tree farm | South West | 85 visitors
Growing the business
We'd seen how Open Farm Sunday was growing and had considered opening before, but in 2017, we had the staff available to help run the event, so we decided to give it a go.  Discussion with our PR company really helped to cement our own thinking that opening up the farm for LEAF Open Farm Sunday was the way to go.  We were keen to jump on board with anything that helps the public come and see what we do and to share the pride we feel in our farm and our trees.

Early start to planning
As we didn't really know what was involved, we started planning early.  In fact, it didn't take as much as we first thought, you just need to do it right and commit from the outset.  Registering our event on the LEAF Open Farm Sunday website was an important first step, which helped to consolidate our thoughts on the kind of event we wanted.  Promotion, health and safety and activities for visitors were our three biggest considerations.  In terms of health and safety, we have always had a regimented approach, but in the last few years the documentation has improved based on common sense, so we didn't find it too onerous.  We completed our risk assessment, identified potential hazards, put up signage and made sure our helpers were aware – job done!

Connecting with customers
We met as a team to decide on how we were going to welcome visitors, the messages we wanted to get across and the kinds of activities on offer.  This really helped to make us all clear on the reasons we were opening to the public and what we wanted to get out of it, both at a business and on a personal level.  We then put together a leaflet with a map of the tree plantations, what visitors could expect and the various activities on offer. 
In addition to emailing our customer database, a lot of our promotion was done through Facebook and Twitter as well as in the local press and community publications.  On the day we were delighted we had 85 visitors.
As a family, we all have a genuine interest in inspiring future generations and connecting with young people.  Our environmental ethos is all based around reducing our impact on the planet – we refer to food 'yards' not food miles!  LEAF Open Farm Sunday was the perfect vehicle for us to connect with the local community, show them what we do and share the pride we feel in our wonderful trees.  From visiting us in June, I am sure people now feel more connected to us and many will come back again to buy their trees from us.  Opening the farm definitely makes good business sense and personally, as a family, we found it hugely rewarding.  The sense of wonder on people's faces when they saw that Christmas trees start off their life looking bright green and fluffy was very special.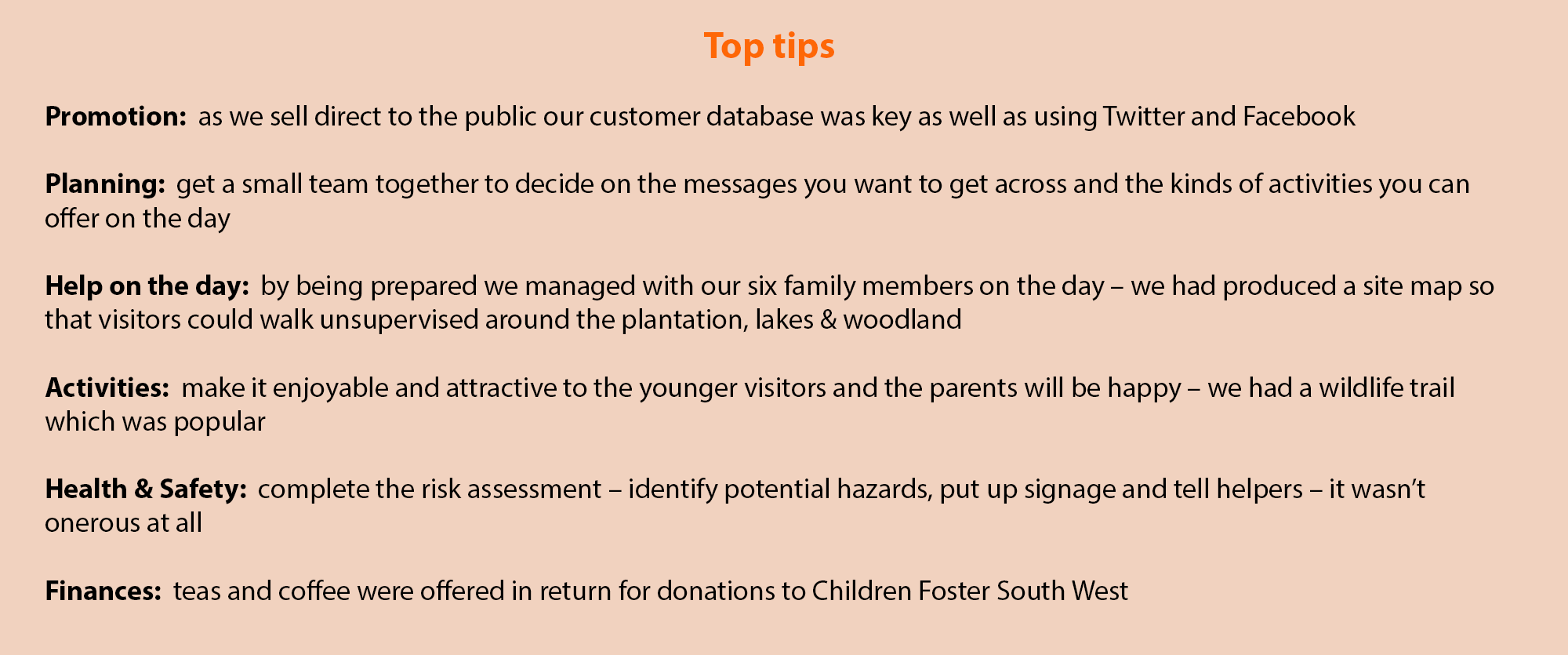 Sign up to our mailing list(s)
You are now subscribed!
You are signed up to the mailing list(s) you selected.
If you no longer wish to receive emails from us, every email we send contains a link at the bottom allowing you to unsubscribe with one click. Privacy Policy.