Farm Fit Competition!
To find out how many steps Britain's Fittest Farmers and Stella the dairy cow take in one week going about their daily farming business!
#FarmFitCow
Farm Fit Com­pe­ti­tion

2021
Have you ever won­dered how active British farm­ers and their live­stock are?! The sus­tain­able farm­ing char­i­ty, LEAF (Link­ing Envi­ron­ment And Farm­ing) teamed up with Arla Foods and Farm­ers Week­ly to find out!

For sev­en days, from Sun­day 21st to Sat­ur­day 27th March 2021 we fol­lowed Britain's Fittest Farm­ers, Emma Ash­ley and James Arne, and Stel­la Pre­mier Jetske a Friesian dairy cow to see just how much they mooo'ved!


In total, 510,188 steps were tak­en by the three par­tic­i­pants as they went about their dai­ly busi­ness. Read their mini dai­ly diaries below to get an insight into every­day farm­ing life, which was also pro­mot­ed on the LEAF Open Farm Sun­day Face­book chan­nel #Farm­Fit­Cow. Meet our par­tic­i­pants in con­ver­sa­tion with LEAF Chief Exec­u­tive Car­o­line Drum­mond here.

The com­pe­ti­tion:


To guess how many steps Emma, James and Stel­la each took dur­ing the sev­en day run up to LEAF Online Farm Sun­day on 28th March. To note: we just count­ed two of Stel­la's legs (left forwards/​right for­wards — not all four legs!).

Con­grat­u­la­tions to the com­pe­ti­tion win­ner, Pen­ny B in Nor­folk, who made the clos­est guess and won a love­ly ham­per of Arla products.

Intro­duc­ing our participants:


Emma and James won the title Britain's Fittest Farm­ers in a gru­elling nation­al com­pe­ti­tion organ­ised by Farm­ers Week­ly. Our third par­tic­i­pant, Stel­la Pre­mier Jetske, lives on an organ­ic dairy farm in the South Downs Nation­al Park and pro­duces deli­cious nutri­tious milk for Arla Foods.
Name: James Arney
Age:
26


Loca­tion: Frome, Somerset

Third-gen­er­a­tion farmer James works for a dairy unit rear­ing heifers, young female calves, and keeps a small flock of his own ewes (female sheep).

His farm­ing keeps him in good shape, but he enjoys hit­ting the gym and play­ing crick­et and foot­ball, too.

"Fit­ness is the main way of man­ag­ing my men­tal health," he explains. ​"Farm­ing is a 24⁄7 job and can often con­trol your life, so hav­ing time off is a great way of relaxing.

"Liv­ing and work­ing at home can be stress­ful, so man­ag­ing time off is cru­cial and some­thing I push for as the youngest part­ner in the business."

James has kind­ly writ­ten a blog for LOFS about why Health and Well­be­ing is so impor­tant in his day to day life, you can read this here.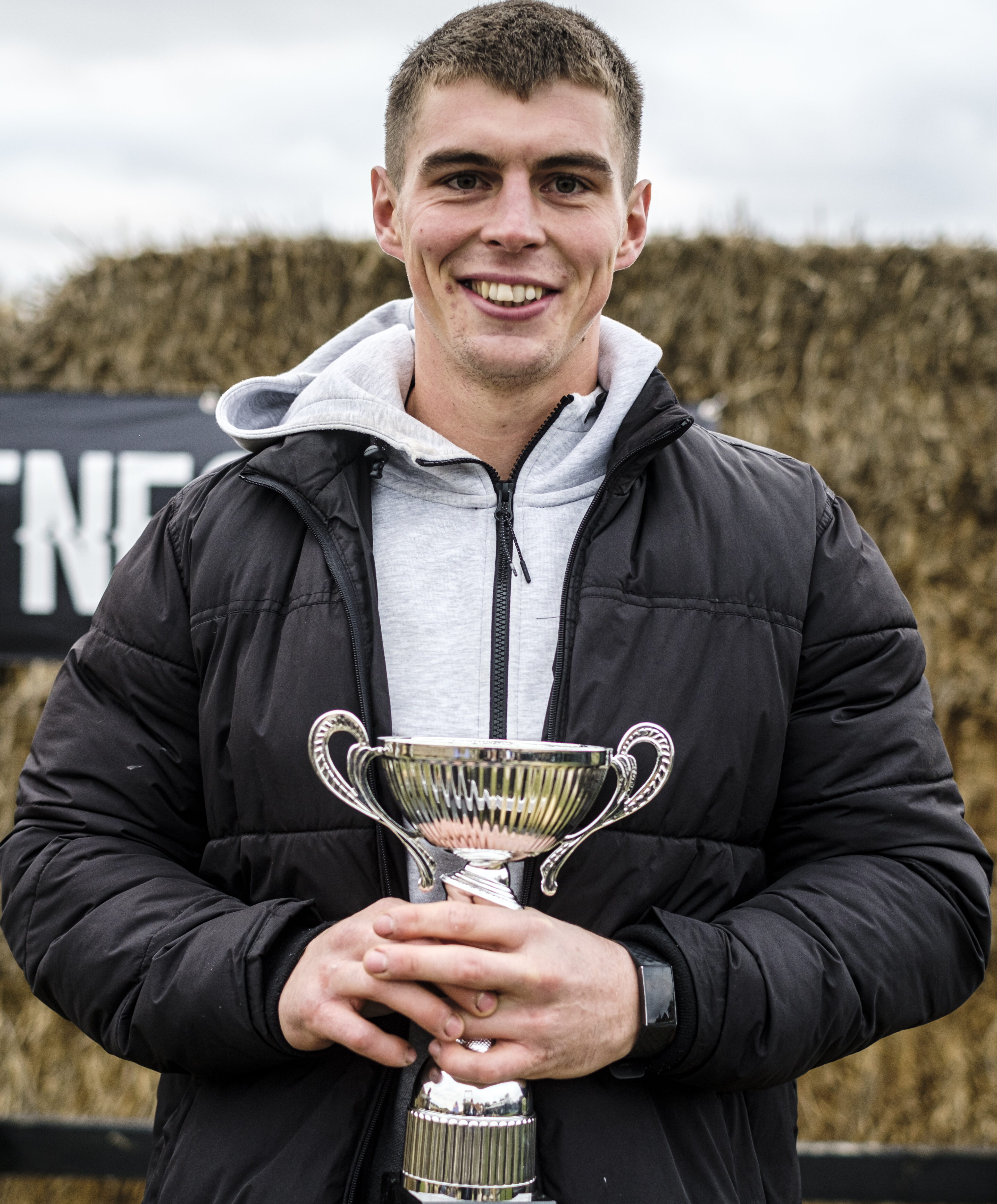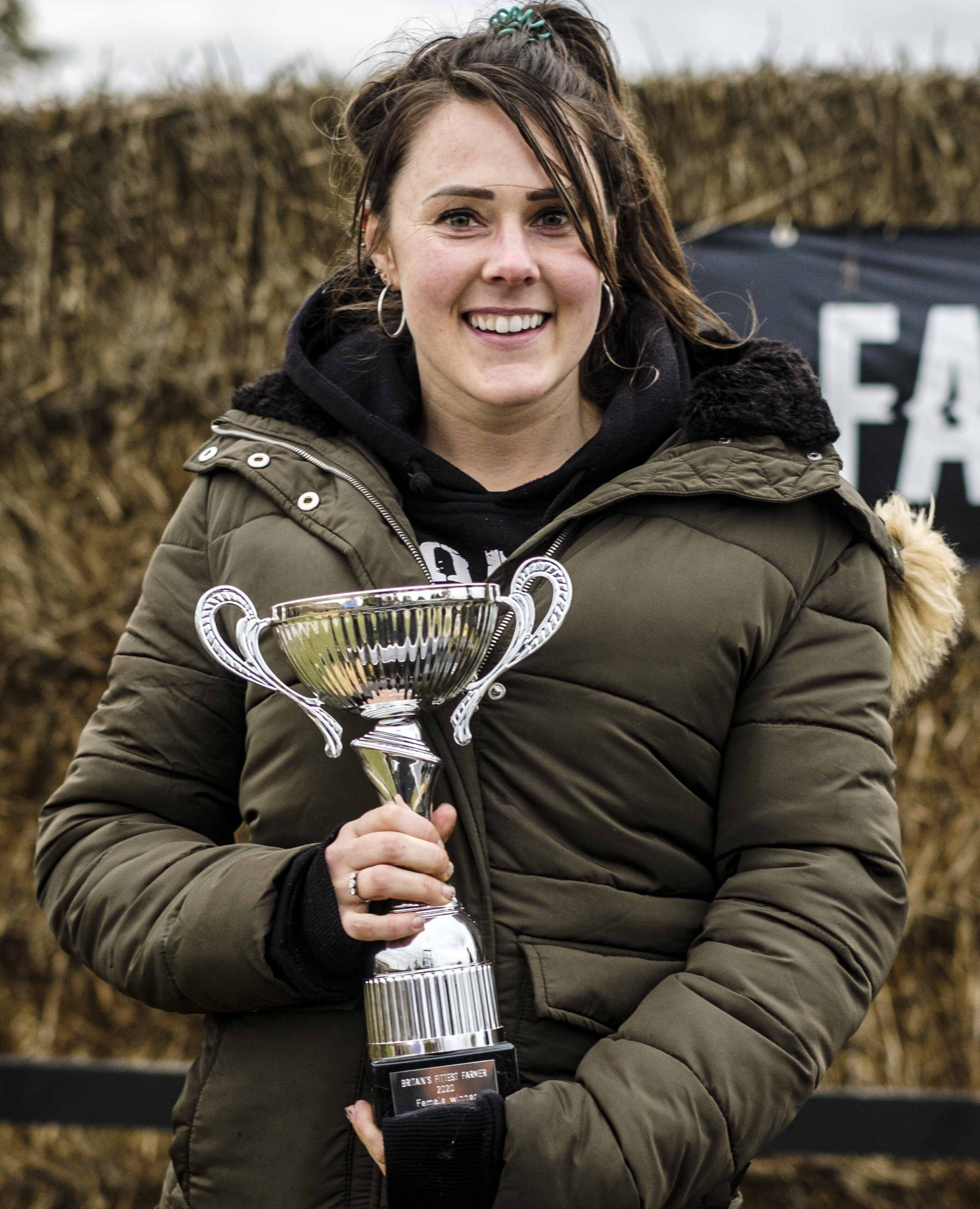 Name: Emma Ash­ley
Age:
32


Loca­tion: Hert­ford, Hertfordshire

"Fit­ness has gone from child­hood fun to a way to focus my mind," says Emma, who runs the shoot and man­ages the con­ser­va­tion of wild mead­ows on her family's arable farm.

Being part of a small farm means she need­ed to find part-time work else­where, so she trained as an accoun­tant and a per­son­al trainer.

"I run a week­ly boot­camp for our ten­ants, recog­nis­ing that liv­ing on a farm can be lone­ly for them too. I write train­ing pro­grammes and open up our farm gym to fel­low farm­ers," she says.

"Main­tain­ing a life bal­ance and a resilience is key to both phys­i­cal and men­tal health."
Name: Stel­la Pre­mier Jetske
Age:
4


Loca­tion: West Sus­sex

Stel­la is part of a herd of Friesian dairy cows, man­aged by Har­ry Holt, on an organ­ic farm near Chich­ester, West Sus­sex. Here, all the herd wear sen­sors to mon­i­tor activ­i­ty of the cows to ensure they are at peak health. The milk Stel­la pro­duces goes to Arla Foods then on to McDonald's.

Stel­la lives out in the fields in the sum­mer months, graz­ing on lush grass with her friends and fam­i­ly, and is hap­py tak­ing part in this chal­lenge to see if she is more active than Britain's Fittest Farm­ers — and you!
Britain's Fittest Farmer was launched by Farm­ers Week­ly as a fun way of spark­ing a vital dis­cus­sion about the phys­i­cal and men­tal health of the nation's farm­ers. As farm­ing becomes less active and more mech­a­nised and office-based, it's more impor­tant than ever before to make sure Britain's farm­ers are get­ting the exer­cise that they need to stay fit and healthy. The com­pe­ti­tion aims to get all farm­ers think­ing and talk­ing about their health — phys­i­cal and men­tal. James and Emma were win­ners of Britain's Fittest Farmer com­pe­ti­tion in 2020.
Any farm­ers who would like to take part in the next Britain's Fittest Farmer Com­pe­ti­tion can put in an appli­ca­tion here.
DAY

1

:
SUN­DAY

21

st March

2021

Emma:

It's Sun­day and for some it may be a day of rest but any­one who works on a farm will know oth­er­wise.…. my day began with morn­ing run then off to fin­ish our ditch man­age­ment which we start­ed last Sun­day. James, my broth­er took con­trol of the dig­ging but I'd like to think that I took over­all respon­si­bil­i­ty of the job.
This meant that I was main­ly on foot check­ing for any unwant­ed items in the ditch­es which fly-tip­pers leave for us farm­ers to clear up. Then dou­bling back on what James had done and armed with my trusty spade, I made sure that the pipes were unblocked and that our daf­fodils were still bring­ing colour to our verges on what was a slight­ly dull day.
It's an annu­al task that's well worth the effort and by doing it we pre­vent sur­face water on high­way, it cre­ates bank veg­e­ta­tion, main­tains buffer strip and helps pre­vent pol­lu­tion which in turn helps the wildlife.….just a few rea­sons why we do ditch man­age­ment.
All in all a reward­ing morn­ing which makes for a deserv­ing Sun­day lunch and then into the gym with daugh­ter Ellie and Lulu our pooch who keeps me com­pa­ny.
In train­ing for Britain's Fittest Farmer, but feel­ing slight­ly guilty after Sun­day lunch, I set my tar­gets on leisure­ly Sun­day after­noon ses­sion before a short walk with Ellie and Lulu to fin­ish the day.
Fin­gers crossed that the weath­er improves as the week goes on and I can share more pho­tos of our farm with you all.….How many steps/​dis­tance did I achieve today?

James:

Nor­mal ser­vice resumes for me. A day full of feed­ing lambs and cat­tle. On the farm today we also did our month­ly field walk where we test and look at grass growth of our graz­ing and silage ground. Hope­ful­ly with the warm weath­er this will keep improv­ing. No fit­ness for me today. But have done lots of walking

Stel­la:

Today Stel­la and her girl­friends have spent the day graz­ing. As the weath­er improves and the grass growth speeds up she will spend more time out­side. At the moment she will spend the nights in the cow shed but pret­ty soon she'll be out­side day and night. Some fields are just a short walk away while oth­ers can be up to a kilo­me­tre from the milk­ing par­lour. But with good tracks to walk on and pedi­cure from the herds­man to check her feet are healthy Stel­la will com­fort­ably walk the distance.
DAY

2

:
Mon­day
22

nd March

2021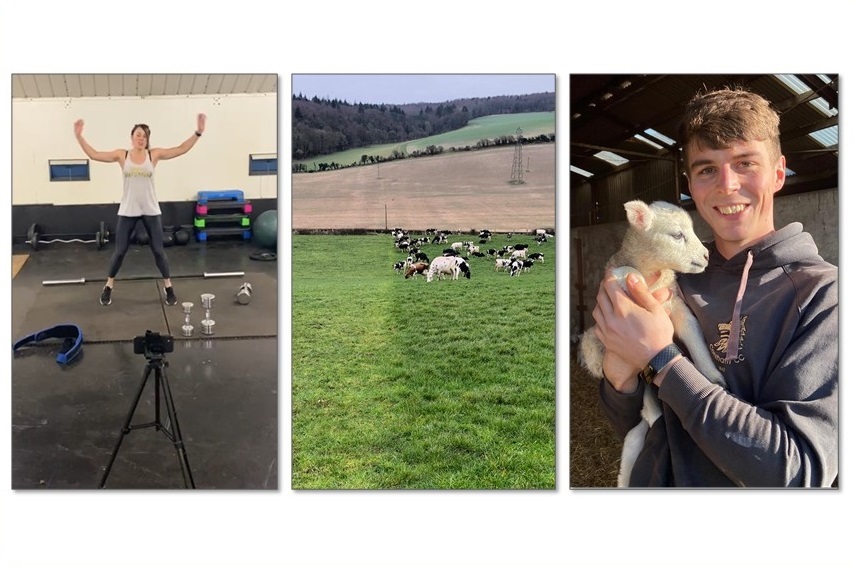 Stel­la:
Stel­la and the rest of the herd are out all day today. She comes in for milk­ing at 5am from her cosy cubi­cle bed, we checked in to see how many steps she'd tak­en in the last 24hours and from there she went straight up the farm track to a fresh patch of pas­ture. We give Stel­la a fresh strip every­day. The line in the field of the pic­ture where the herd are graz­ing shows the strip they grazed yes­ter­day and the dark­er, lush grass they're on today. We call this strip graz­ing and will move the herd around the fields this way to make the most of pas­ture. Once grazed the pas­ture will be left to recov­er for around 3 weeks, which is about the time it takes for the cows to graze all the pad­docks, before they return to the first field and the cycle starts again.

Emma:
I start­ed today with a morn­ing run as I do every Mon­day. It sets me up for the morn­ing ahead which nor­mal­ly involves a few home­made bis­cuits which is my con­tri­bu­tion to my dads end­less sup­ply of tea. Every Mon­day we both sit down and go through the week ahead and the farm accounts. We like to take a break to stretch our legs mid morn­ing and take Lily & Amber (dads dogs) out for walk before we get back to the books.

Mon­day after­noons is time to myself so I work off those bis­cuits and spend 2 hours in the gym comb­ing aer­o­bics and weights before I pre­pare for our week­ly boot camp ses­sion for the farms ten­ants and staff. With lock­down it means that our nor­mal ses­sions have had to change so I now run zoom fit­ness ses­sions which fam­i­lies can join in with. Our ses­sions each last 45 mins so check out my video clips to see what we do.

.…How many steps/​dis­tance did I achieve today?

James:
As the weath­er has been love­ly today we have been out fenc­ing get­ting ready for turn out at the start of next week.

No work­out as of yet as I've bare­ly stopped, that will hap­pen after work today. Lots of steps though.

DAY

3

:
Tues­day
23

rd March

2021

: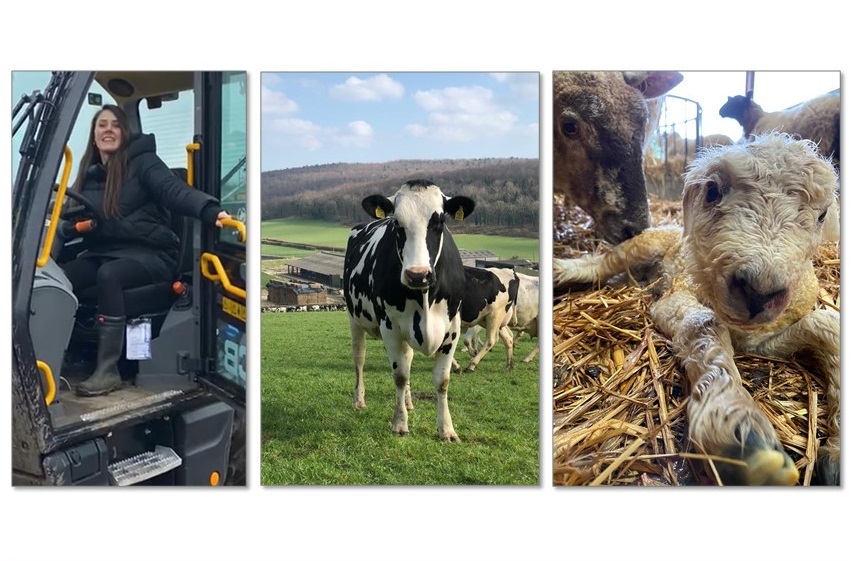 James:

Not much to report from me thus far. Tues­day is my uni­ver­si­ty day so I've been online study­ing from home today.

As nor­mal an ear­ly start. Up at 5:45 to begin feed­ing and bed­ding the cat­tle. Start­ed lamb­ing our ewe lambs today so it's going to be a very full on cou­ple of weeks for us.

Not fit­ness as of yet how­ev­er my Fit­bit keeps telling me I need to get up and move. Hop­ing to get out for a run before it gets dark

Stel­la:
The sun is shin­ing and Stel­la is enjoy­ing the view across the South Downs today.

The health of our dairy cows is extreme­ly impor­tant. One main issue we reg­u­lar­ly check are the cows feet. Mobil­i­ty scor­ing the whole herd helps us iden­ti­fy any lame cows, and gives us an idea of how the gen­er­al health of the herd is. Stel­la has bril­liant feet and always scores well on her mobil­i­ty scor­ing sheet. Here we score the cows as they walk by from 0 – 3, 0 being good and 3 being poor.

So all our girls have reg­u­lar pedi­cures and hap­py hooves. This means they are hap­py to stand in the par­lour to be milked and to walk the pas­tures around the dairy enjoy­ing the scenery like our gor­geous girl Stella.
Emma:
I always try and start with a heart pump­ing exer­cise and today it was in the gym on the spin­ning bike for 45mins. After that it was head down prepar­ing my notes for the farms week­ly team meet­ing. As part of our staff's well­be­ing pol­i­cy launched dur­ing lock­down last year, I have a reg­u­lar slot on the agen­da giv­ing tips on healthy eat­ing & fit­ness.

After this it was off to clear the plain­ings which were deliv­ered yes­ter­day.

We put these to good use by fill­ing in holes and lev­el­ling our farm tracks and yard. It's a lengthy job, tak­ing up most of the day sit­ting in the cab of our JCB but Ter­ence, our site man­ag­er took a turn in the cab and so equipped with my shov­el, I had a go at some hard graft as well.

At the end of the day the gym was call­ing and I worked on flex­i­bil­i­ty after all that shov­el­ling!

.…How many steps/​dis­tance did I achieve today
DAY

4

:
Wednes­day
24

th March

2021

: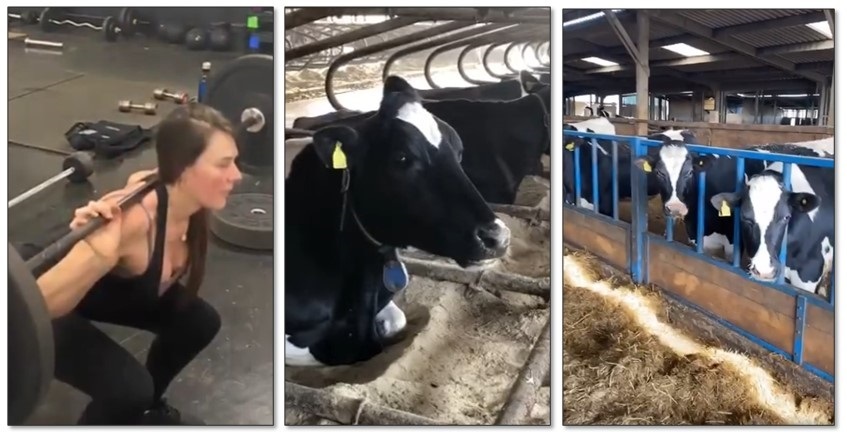 Emma:
Start­ed the day in the gym doing weights.…..weather was look­ing a bit dull but the out­look lat­er was promis­ing so I took myself off to the local town as Wednes­day is mar­ket day and I com­bined that with a quick shop around the super­mar­ket before head­ing back to base.

Arriv­ing back I jumped on our bug­gy and head­ed over to check on our owl & bat box­es. We have 3 owl box­es locat­ed in one of our fields which were put up a few years ago but are now in need of repairs or replac­ing. Every year we've been suc­cess­ful with young chicks and we work with vol­un­teers from our local owl watch as a license is required to phys­i­cal­ly han­dle the chicks. My task was check­ing the con­di­tion of the box­es and mak­ing sure that the cam­eras secret­ly installed near­by are all in work­ing order. As the after­noon went on, the grey sky became blue and I was able to repair a bro­ken door to one of the box­es so fin­gers crossed we'll have anoth­er suc­cess­ful year of breed­ing.

Next it was time for a run while the sun was still out.

.…How many steps/​dis­tance did I achieve today?
James:
We have been TB test­ing today. As the dairy farm that we sup­ply our heifers to are cur­rent­ly shut down, we have to be test­ed every 60 days. This means every ani­mal has to be inject­ed with two dif­fer­ent injec­tions to see if it is car­ry­ing TB. We test­ed 290 ani­mals today start­ing at 10 o'clock we were fin­ished by 1. All the gen­er­al farm work was done before hand so up at 6 o'clock to start that.

Lots is steps in today mak­ing up for the lack yes­ter­day.

Onto more fenc­ing this after­noon as well as check­ing the ewe lambs every house for any new born lambs. The weath­er is glo­ri­ous so I imag­ine it'll be a late fin­ish tonight.

Stel­la:
This morn­ing we found Stel­la enjoy­ing her bed, or cubi­cle as we call them on the farm. These beds are in our biggest cow shed on the farm, the whole herd comes in here to sleep and digest their food. This act of eat­ing and digest­ing is called cud­ding, which a cow will do up to 10 hours a day. That's a lot of chew­ing!

A cow lies down for approx­i­mate­ly 14 hours of the day, and sleeps for about 4. These are nor­mal­ly divid­ed into small 30min pow­er naps.

Stel­la and her girl­friends lie in super soft com­fy sand beds. These are per­fect not only for cow com­fort but they help reduce the risk of mas­ti­tis. Their beds are cleaned and lev­elled by the dairy team, Mar­tin and Paige, as they call the girls in for milking.
DAY

5

:
Thurs­day
25

th March

2021

: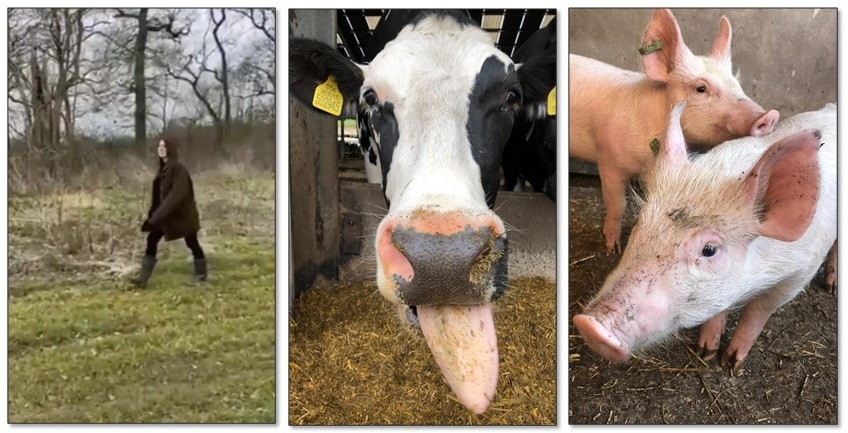 Stel­la:
Did you know a cows tongue is 3 feet long? When she's graz­ing Stel­la uses her tongue to wrap around the pas­ture and tear it off. This week we have been seed­ing new pas­tures. The seed is mix­ture of grass­es, clovers and broadleaf plants light chico­ry and plan­tain as well as pars­ley and yarrow. Hav­ing such a diverse mix of plants helps to keep Stella's diet healthy but also ensures a steady growth of edi­ble plants for her through­out the sea­son. Each plant will have a dif­fer­ent root sys­tem and all the roots inter­con­nect and improve the soil and the micro fau­na (tiny bugs) as well as fun­gi liv­ing in the soil.
What comes out of Stel­la at the oth­er end is then gob­bled up by all those tiny bugs and plant roots to start the cycle of growth all over again.

Emma:
The views across our farm are love­ly and in the ear­ly morn­ing the dawn cho­rus dom­i­nates. I had to take a few moments this morn­ing to stop my run and watch the res­i­dent hares show­ing off.

My jobs for the day was to check our wild bird cov­ers and ponds. Our mix of seed crop has cre­at­ed an attrac­tive habi­tat for wild birds and our annu­al (May) BTO breed­ing bird sur­vey is proof of its suc­cess. As I jump off the bug­gy and walk around tak­ing a clos­er look, I can't resist get­ting my pock­et binoc­u­lars out to see if the hares were still about but no so I'll have to wait until tomor­row morn­ing for them to show them­selves again.

Back to the ponds and oth­er than a bit of ​'house­keep­ing', all was look­ing well, healthy and pro­vid­ing a habi­tat for a range of per­ma­nent wildlife as well as peri­od­ic vis­i­tors.

It's been a good day and I've enjoyed my walk around the farm but it's back to our farm office to record my notes and sign off for the day.

The gym came next where I spent 30 mins each on the row­er and the echo bike.

.…How many steps/​dis­tance did I achieve today?
James:
Today start­ed with a 5 k run dur­ing sun rise. I always find this the best time to run as no one else is about and you can enjoy the coun­try­side at its finest.
Nor­mal farm work then resumed with feed­ing and bed­ding all cat­tle. As well my small hold­ing of pigs (3) which always love new bed­ding.
As well as the farm­ing side of the busi­ness we also have some shed rentals. Today we were dig­ging holes for a new secu­ri­ty fence to go around the out­side of the build­ing. This meant jack ham­mer­ing through sol­id tar­mac which is nev­er easy on the hands. No so many steps but lots of ener­gy exerted.
DAY

6

:
Fri­day
26

th March

2021

: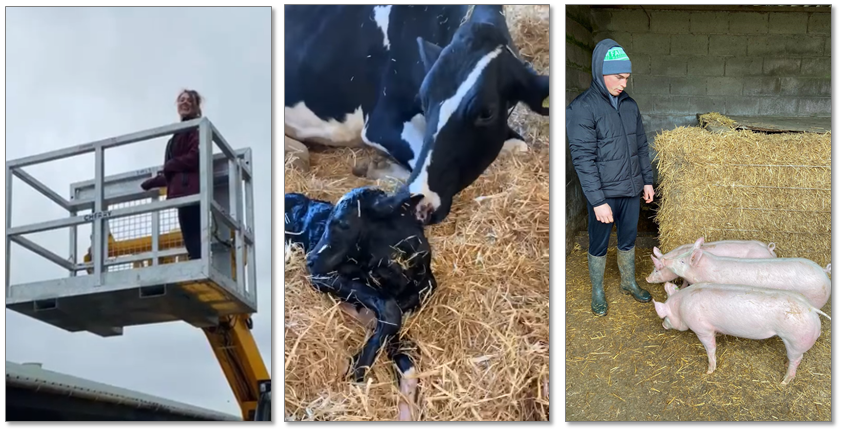 James:
Fri­day! Final­ly the end of the week. But that doesn't mean a lot when you're a farmer and you've got to work week­ends.
Today I was doing some con­tract fenc­ing for a neigh­bour­ing sheep farm and I hap­pened to pick the wettest day of the week to do it. It was tor­ren­tial rain here this morn­ing so full water­proof gear was very much a must.
This took me about 5 hours to com­plete and was home by 2. Once I got home it was time to do some office work. Every week we have to enter any injec­tions, AI's and gen­er­al ani­mal health onto UNI­FORM which is an app we use to keep ani­mals records.
Stel­la:
Did you know the length of a cows preg­nan­cy is 283 days, which is around 9 months. On the farm we give Stel­la and the rest of the girls a dry peri­od. This is the last 6 weeks of preg­nan­cy where she stops milk­ing and has a rest peri­od, not just for her and her calf but it is also very impor­tant for her udder health. All the good­ness in the milk is stored up and colostrum is made ready for the new born calf.
Last year Stel­la gave birth to a gor­geous heifer calf. This video is one of her sis­ters last year giv­ing her baby lots of love. She is now preg­nant to her sec­ond calf which will be born in August.
Emma:
Out for a morn­ing run and met dad out hav­ing his morn­ing walk. As I ran passed he called ​'don't for­get those gut­ters'. ​'No I haven't for­got­ten' I replied.

The gut­ters which need­ed clean­ing are on what was once our poul­try shed which is now an agri­cul­tur­al barn, farm office and work­shop. It's not too high but with site man­ag­er Ter­ence not being keen on heights and strapped in my har­ness, I vol­un­teered to go up. It's great, I could see the sheep in the next field from up there. It's reward­ing job although the end results aren't vis­i­ble to those at ground lev­el.

My broth­er James is the man­ag­er of a neigh­bour­ing farm so after lunch I head­ed off across the foot­paths for a vis­it and to see their beef cat­tle. Daugh­ter Ellie was so excit­ed to see them.… she's becom­ing a right lit­tle farmer. Check today's pho­tos of our route tak­en & spot out our neighbour's pet Emu.

.…How many steps/​dis­tance did I achieve today?
DAY

7

 — final day!
Sat­ur­day
27

th March

2021

: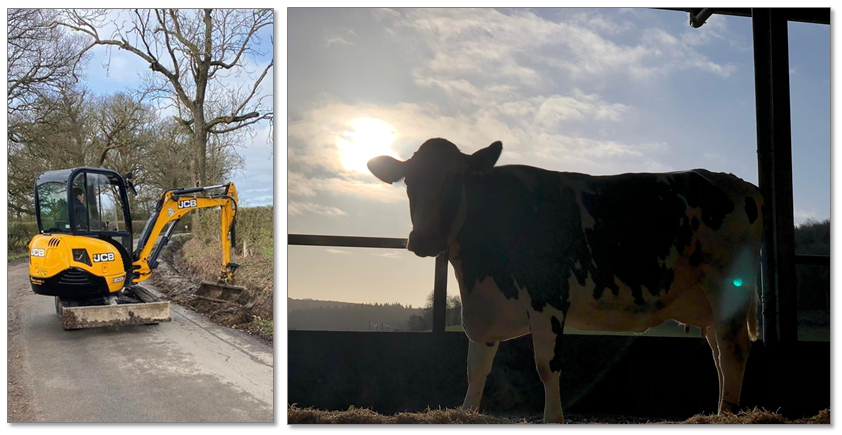 Emma:
The day start­ed with a run and was fol­lowed by a reg­u­lar 121 ses­sion with one of our staff. As the farms well­be­ing bud­dy, last year we intro­duced a well­be­ing pol­i­cy and Dave became the first mem­ber of the team to embrace it. Last April Dave suf­fered a heart attack and spent 3 weeks in hos­pi­tal dur­ing lock­down and in week 4 he was dis­charged. With no close fam­i­ly Dave, who has worked here for 30 years, stayed at the farm to con­va­lesce. We kept an eye on him and I intro­duced him to a some gen­tle dai­ly walk­ing. He soon grew stronger and with a healthy diet he was back to light duties. 11 months on, every Sat­ur­day morn­ing we take a break from work to walk and talk.

I usu­al­ly fin­ish off Sat­ur­day morn­ings with a quick tidy up of the farm office unless it's the shoot­ing sea­son and then I help with that.
Sat­ur­day after­noon I was able to spend 2 hours in our gym on weights, the row­er and bike.
Sat­is­fied with the achieve­ments of the week, I'm now ready to start the next.
.…How many steps/​dis­tance did I achieve today?
Stel­la:
The end of a Stel­la week and our girl has put her best foot for­wards in the stepathon! She's shown us some amaz­ing pent­house views from the top pas­tures and eat­en her way through 350kg of for­age over the last 7 days.
When I spoke to her this morn­ing, Stel­la told me to say that she hopes you've enjoyed her fun facts and that if you ever want to know more a about life on a dairy farm she'd hap­pi­ly talk until the cows come home!
James:
Ear­ly start again this morn­ing. I was up at 5:30 to feed and bed the cat­tle. This was fol­lowed by read­ing the TB results from Wednes­day. This took about 4 hours this morn­ing and thank­ful­ly we went all clear.
This after­noon I have been dig­ging holes and mix­ing con­crete by hand to install some secu­ri­ty fenc­ing around some of our shed that we rent out.
No work­out as of yet but plen­ty of steps.
The results are in!
A huge con­grat­u­la­tions to Pen­ny B from Nor­folk who won a fab­u­lous selec­tion of Arla products!
Their total steps for the 7 day peri­od were:
Emma: 210,472 steps
James: 215,629 steps
Stel­la: 84,087 steps
A huge amount of steps and what an achieve­ment, well done all!
Thank you to Arla Foods and Farm­ers Week­ly for sup­port­ing this com­pe­ti­tion and for every­one tak­ing part.

Sign up to our mailing list(s)
You are now subscribed!
You are signed up to the mailing list(s) you selected.
If you no longer wish to receive emails from us, every email we send contains a link at the bottom allowing you to unsubscribe with one click. Privacy Policy.