Latest LEAF Open Farm Sunday 2019 Figures Released
For the fifth year running, over a quarter of a million people connected with farming on LEAF Open Farm Sunday. This year 250,450 people went out onto 365 farms from Jersey to Shetland Isles.
Thank you to every­one who host­ed, helped, spon­sored and vis­it­ed LEAF Open Farm Sun­day 2019 – what a huge success!

250

,

450

vis­i­tors to

LEAF

Open Farm Sun­day Events

365

farms open­ing across the

UK

*

8

% increase in vis­i­tors from urban areas

96

% vis­i­tors report­ed event was ​

'

very good' or ​

'

excel­lent'

91

% vis­i­tors said they ​

'

learnt some­thing new'
*Com­pared to 2018 data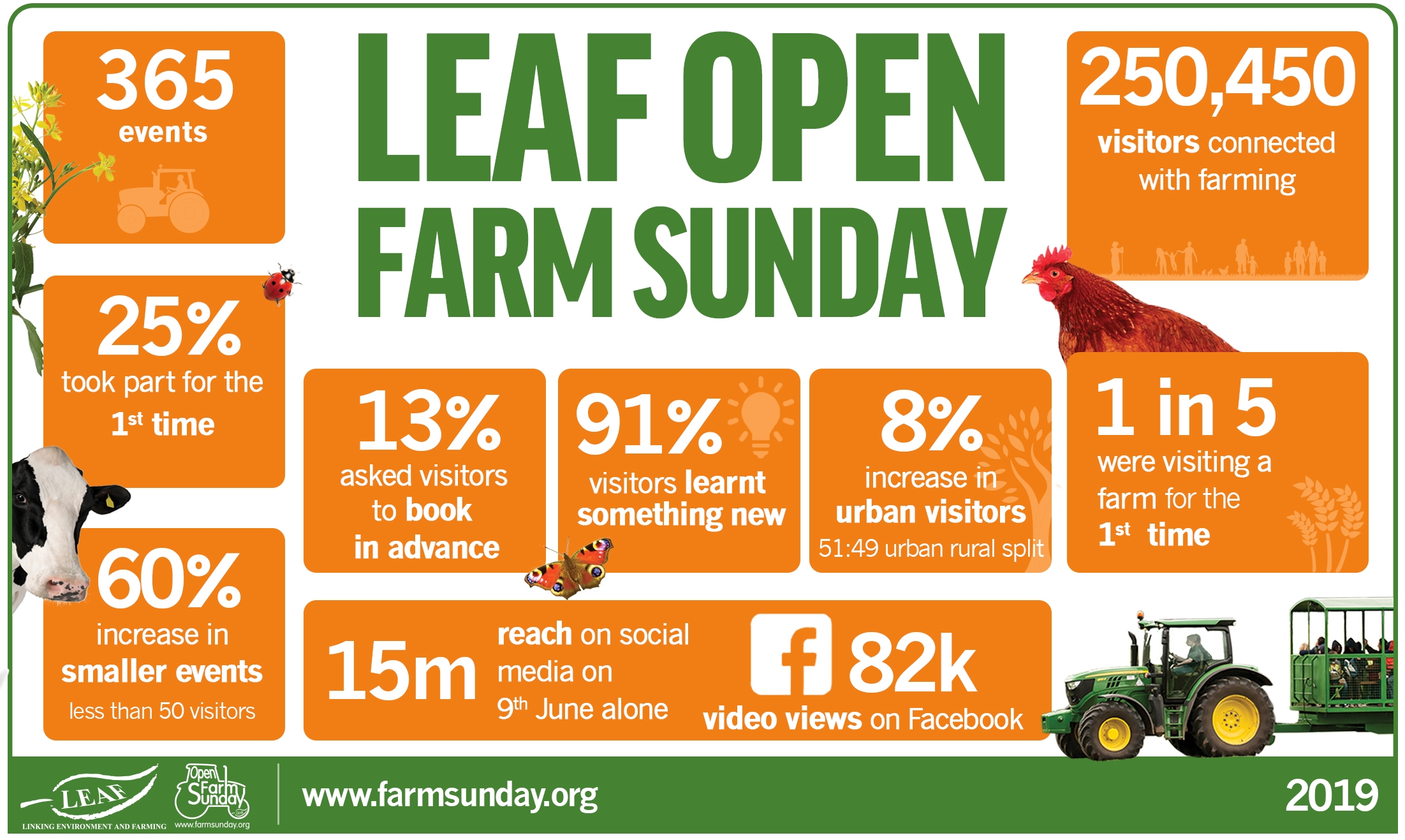 Results from the vis­i­tors exit sur­vey released by LEAF show the grow­ing pop­u­lar­i­ty and reach of the annu­al event with an 8% increase in peo­ple com­ing from urban areas and a 14% increase in vis­i­tors who had been to a LEAF Open Farm Sun­day event before. The main moti­va­tions for vis­it­ing a farm includ­ed ​"hav­ing a fam­i­ly trip out" (46%), ​"show­ing sup­port for British farm­ers" (31%) and ​"find­ing out more about British farm­ing and what farm­ers do" (23%). Fur­ther­more, 91% of vis­i­tors report­ed ​"learn­ing some­thing new" about farm­ing with increas­ing lev­els of inter­est in find­ing out what farm­ers are doing to care for the envi­ron­ment. Many peo­ple report­ed they were ​"amazed to see how farm­ers are try­ing to bal­ance crop pro­duc­tion and pro­tect­ing wood­land, birds and pol­li­na­tors" and ​"how much farm­ing con­tributes to the environment."

LEAF Open Farm Sun­day Man­ag­er, Annabel Shack­le­ton said:
"This year's results are excit­ing on so many lev­els. Once again, they show the pow­er of LEAF Open Farm Sun­day in con­nect­ing peo­ple – from both urban and rur­al areas – to where their food comes from, how it is pro­duced and the farm­ers who make it all hap­pen. We are mak­ing a strong impact in reach­ing out to peo­ple from urban areas, open­ing up oppor­tu­ni­ties to learn more about sus­tain­able farm­ing and the sci­ence and tech­nol­o­gy that lies behind it."
"Inter­est this year from vis­i­tors want­i­ng to learn more about how farm­ers are pro­tect­ing our nat­ur­al resources like soil and water, how they are using more renew­able sources of ener­gy and what they are doing to pro­tect and enhance wildlife habi­tats has nev­er been greater. It has been won­der­ful to read com­ments from vis­i­tors who want to sup­port British farm­ers, care deeply about how their food is pro­duced as well as being very inter­est­ed in wider issues around sus­tain­abil­i­ty, cli­mate change and ani­mal welfare."
This year more host farm­ers opt­ed to man­age vis­i­tor num­bers with 13% ask­ing vis­i­tors to book in advance. There was also a 60% increase in small­er, more focused events with few­er than 50 visitors.
"What­ev­er the size and type of event farm­ers choose to organ­ise, LEAF Open Farm Sun­day pro­vides a unique chan­nel through which we can show­case our indus­try, ignite the sup­port and inter­est from the gen­er­al pub­lic and har­ness their sup­port for our British farm­ing indus­try and all it deliv­ers".
"LEAF Open Farm Sun­day has come a long way since it was first launched in 2006. Our thanks to all the fan­tas­tic farm­ers who have tak­en part, the thou­sands of vis­i­tors who sup­port­ed them and to our spon­sors for their finan­cial and in-kind sup­port. As we progress our plans for the fif­teenth LEAF Open Farm Sun­day on 7th June 2020, we will con­tin­ue to adapt and respond to input from host farm­ers, spon­sors and stake­hold­ers to ensure its con­tin­ued pos­i­tive impact as Britain's lead­ing on-farm pub­lic out­reach event."
LEAF Open Farm Sun­day 2020 will take place on Sun­day 7th June with reg­is­tra­tions open­ing on the 1st Novem­ber at www​.farm​sun​day​.org. To keep up to date with all the lat­est news from LEAF Open Farm Sun­day fol­low @openfarmsunday on Twitter.
LEAF Open Farm Sun­day is huge­ly grate­ful to its spon­sors: AHDB, Arla Foods, Asda, BASF plc, Co-op, Defra, Farm­ers Week­ly, Fron­tier Agri­cul­ture, John Deere, LEAF Mar­que, Marks and Spencer, The Nation­al Farm­ers' Union, Sainsbury's, Tesco and Wait­rose; and sup­port­ing spon­sors: BBSRC UKRI, CPA and QMS.
LEAF are call­ing for more farm­ers to get involved next year to meet the increas­ing demand from the pub­lic to vis­it a farm as part of LEAF Open Farm Sunday.
Read the full press release and our LEAF Open Farm Sun­day 2019 brochure.
Sign up to our mailing list(s)
You are now subscribed!
You are signed up to the mailing list(s) you selected.
If you no longer wish to receive emails from us, every email we send contains a link at the bottom allowing you to unsubscribe with one click. Privacy Policy.