BLOG: Publicity for your LEAF Open Farm Sunday event
Jo is LEAF's Open Farm Sunday Regional Co-ordinator for the South East and here she shares her ideas and experience on how to publicise your LEAF Open Farm Sunday event.
Jo North, South East OFS Region­al Co-ordinator
Jo and her fam­i­ly are third gen­er­a­tion ten­ants of a farm in the South Downs Nation­al Park, and they reg­u­lar­ly host LEAF Open Farm Sun­day events. The farm is just shy of 1,000 acres – mixed dairy and arable, with small beef and sheep enter­pris­es; their milk is sold to Tesco, via Arla.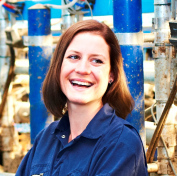 For many farm­ers, their biggest wor­ry is either not hav­ing enough vis­i­tors or being over­run by too many peo­ple on the day. The weath­er plays an impor­tant part and will undoubt­ed­ly impact on vis­i­tor num­bers, but one thing which is in your con­trol is pub­lic­i­ty and how you pro­mote your event.

So for me there are two key parts to publicity:
Pro­mot­ing your event to get the num­ber of vis­i­tors you want, plus
Being clear about what vis­i­tors can do at your event so that they come prepared!
In 2016, 22% of Open Farm Sun­day vis­i­tors had nev­er been on a farm before – so what is obvi­ous to you and me, may be fair­ly alien to your vis­i­tors! If your main event activ­i­ty is a farm walk which is like­ly to be mud­dy, ask vis­i­tors to come ready to walk, know to wear welling­ton or walk­ing boots, and to come with sun tan cream or waterproofs!
Start at the end!
It sounds strange, but the best way to tack­le pub­lic­i­ty is to first decide what you want to achieve: how many vis­i­tors do you want; where they might come from; and how you are going to reach them. Once sort­ed, then you can plan your com­mu­ni­ca­tions accordingly.
FREE resources
Thanks to the nation­al Open Farm Sun­day spon­sors, LEAF pro­duced a range of fan­tas­tic resources for you to pro­mote your event. You can now order dif­fer­ent size resource packs to fit the size of event you are plan­ning to run. Order them free of charge here – you will need to log in to the sys­tem to place an order.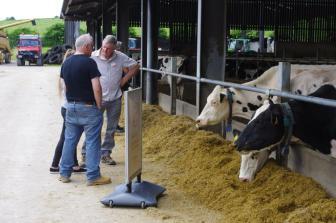 Size is everything!

You will need to adapt your pub­lic­i­ty to the scale of event you are organ­is­ing.
Small events: If you want to host a very small event for a select group of peo­ple, opt to ​'hide' your event so it does not appear on the Open Farm Sun­day web­site. Order the FREE Open Farm Sun­day post­cards which you can use to per­son­al­ly invite friends, neigh­bours, local inter­est groups, parish coun­cil­lors, etc. Ask peo­ple to RSVP to give an idea of how many peo­ple will attend.
Medi­um events: Pro­mote your event in the parish mag­a­zine, on vil­lage web­sites. Order FREE Open Farm Sun­day fly­ers and posters to over­print with your event details and dis­trib­ute local­ly. Use local net­works such as the Scouts, WI, Rotary Club, con­ser­va­tion group, etc. Con­tact local pri­ma­ry schools and ask if you can pro­vide pro­mo­tion­al text to go in the school e‑newsletter to par­ents or if they will put an event fly­er into each child's school book bag.
Larg­er events: You will need to start ear­ly and car­ry out plen­ty of pro­mo­tion­al activ­i­ty. Use the Open Farm Sun­day fly­ers and posters and dis­trib­ute them wide­ly. Pro­mote your event in local ​'What's on guides'. Adapt the tem­plate press release and dis­trib­ute it with a great ​'on farm' pho­to­graph to local and region­al news­pa­pers and mag­a­zines, your region­al TV and radio sta­tions. Put up Open Farm Sun­day road-side ban­ners a cou­ple of weeks before the event. Use social media to reach out to local com­mu­ni­ties and spread the word.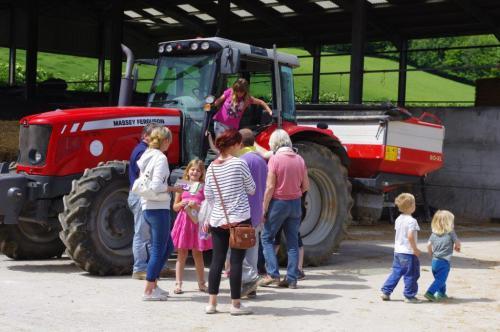 Make sure you do enough!

As a gen­er­al rule, invite twice as many peo­ple to get the num­bers you want.
A clear event description
When pro­mot­ing your event on posters, web­sites, etc, give vis­i­tors a clear idea of what to expect. They will want to know what they can see and do on the farm. If refresh­ments will be avail­able or if they can bring a pic­nic. If dogs are wel­come or not. Is your event wheel­chair friend­ly. Will there be any charges or is the whole event free. Most impor­tant­ly, if it rains will the event go ahead and how much will be under cover.
Of course, don't for­get to use some mar­ket­ing flair: a farm walk can be pack­aged as a ​'Farm Safari'! A fun pho­to­graph of a cute ani­mal will appeal to many.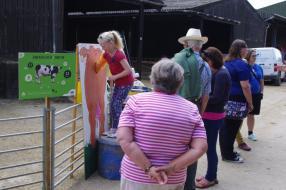 Plan­ning Don't for­get some pub­lic­i­ty tac­tics require long lead times, such as adding an entry to a ​'What's on' guide in a month­ly mag­a­zine, or get­ting a fea­ture into a parish mag­a­zine. Oth­er activ­i­ties are more imme­di­ate – it can take min­utes to set up a Face­book, Twit­ter or Insta­gram account and you can tap into the pow­er of social media to swift­ly have your event pro­mot­ed, shared and liked by hun­dreds of peo­ple. It is con­ceiv­able that if you unwit­ting­ly post some­thing that is far more of a draw than you imag­ined, you could end up with more peo­ple than you bar­gained for. How­ev­er, in my expe­ri­ence this has nev­er hap­pened — but con­sid­er what you post before click­ing ​'post'!
Sign up to our mailing list(s)
You are now subscribed!
You are signed up to the mailing list(s) you selected.
If you no longer wish to receive emails from us, every email we send contains a link at the bottom allowing you to unsubscribe with one click. Privacy Policy.