BLOG: Getting Started with LEAF Open Farm Sunday
Philip runs the family farm in west Herefordshire. The farm specialises in herbage, cereal and vining pea seed production and has a herd of single suckler beef cattle. Philip's wife Heather runs a mail order Birdseed (all supplied and packed by the farm) and ancillaries business, Wiggly Wigglers together with a mail order florist, The Great British Florist, supplying UK grown flowers only, some of which are grown on the farm.
Philip runs the fam­i­ly farm in west Here­ford­shire. The farm spe­cialis­es in herbage, cere­al and vin­ing pea seed pro­duc­tion and has a herd of sin­gle suck­ler beef cat­tle. Philip's wife Heather runs a mail order Bird­seed (all sup­plied and packed by the farm) and ancil­lar­ies busi­ness, Wig­gly Wig­glers togeth­er with a mail order florist, The Great British Florist, sup­ply­ing UK grown flow­ers only, some of which are grown on the farm.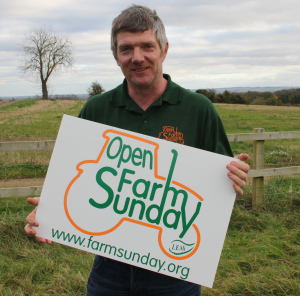 The farm has held a num­ber of open days includ­ing Open Farm Sun­day in the past and Philip is the OFS region­al co-ordi­na­tor for the West Midlands.
As signs of Spring just start to appear and the days length­en, the deci­sion to reg­is­ter the farm for OFS2018 can feel some­thing of a chal­lenge. Farms rarely look their best at this time of year and mine is no excep­tion. How­ev­er, start­ing to plan the day and put my thoughts in order tends to soon com­bat the doubts.
For me, col­lab­o­ra­tion is prob­a­bly the key tool in clar­i­fy­ing what needs address­ing and how. By talk­ing to oth­er farm­ers and friends, some of whom have opened their farm suc­cess­ful­ly before, my con­fi­dence is soon restored. My per­cep­tion that every­one else's farms are brand new, per­fect­ly man­i­cured exam­ples of mod­el farm­yards is soon dis­pelled. Farms come in all shapes and sizes and the vast major­i­ty are, with some basic plan­ning, entire­ly suit­able for a pub­lic visit.
In my expe­ri­ence as a Local co-ordi­na­tor, the two most com­mon anx­i­eties seem to be Health & Safe­ty and ​'Will I be over­whelmed with visitors?'.
I have found it very help­ful to be remind­ed that LEAF Open Farm Sun­day is an oppor­tu­ni­ty for the pub­lic to vis­it my farm on my terms rather than theirs. Although it is impor­tant to keep them safe, we all have areas that either we would rather they don't see or we feel are impos­si­ble to make safe. Here my ​'in stock' spare machin­ery, (some may say scrap) is unsight­ly and poten­tial­ly haz­ardous if peo­ple had access to it. My chem­i­cal shed and work­shop are not ide­al and my con­crete yard should have been com­plete­ly resur­faced ten years ago. How­ev­er, it is per­fect­ly accept­able to restrict the areas that our vis­i­tors have access to. I have found that they are not nec­es­sar­i­ly expect­ing the ​'brochure' farm­yard and are very keen to hear my sto­ry about my farm. They ful­ly realise it is a work­ing envi­ron­ment, not designed in the first instance for pub­lic access. I also find the impe­tus that Open Farm Sun­day gives me to insti­gate some tidy­ing up is a pos­i­tive one. I tend to get used to a pile of plas­tic string wait­ing to be col­lect­ed, etc. I also have found that while the farm can look a bit glum at the end of Feb­ru­ary, by June it is green and hope­ful­ly with a sun­ny day, the whole out­look is changed. In my expe­ri­ence, some time and thought is very well spent in plan­ning food, hygiene and the order in which peo­ple are direct­ed around the farm. The guide­lines pro­vid­ed by LEAF make this easy and inex­pen­sive. Again, I have found col­lab­o­ra­tion to be key by get­ting the local WI to pro­vide teas and cake for char­i­ty, I ful­ly com­plied with leg­is­la­tion and raised some mon­ey for a local good cause. Engag­ing friends and neigh­bours to help with park­ing, con­tin­gency plans and so forth all help to spread my work­load on the day.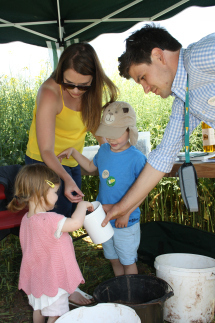 In terms of the fear of being over­whelmed with vis­i­tors, I talked to oth­er host farm­ers and OFS staff and found their knowl­edge and expe­ri­ence invalu­able. Once I had got my head around the dif­fer­ent lev­els of pro­mo­tion and the like­ly vis­i­tor num­bers they would gen­er­ate, per­son­al­ly I was a lot hap­pi­er. I was able to arrange con­tin­gen­cies for park­ing and traf­fic to give me a rea­son­able mar­gin of error and talk­ing to oth­ers, remind­ed me that prob­lems in this area are extreme­ly rare and real­ly only apply to TV celebrities!
My insur­ance com­pa­ny (in my case NFU­Mu­tu­al) were very sup­port­ive and also had a wealth of help­ful info and indeed the vast major­i­ty of our sup­pli­ers and con­tacts were keen to help and offer advice and experience.
Over­all, my main piece of advice is to give your­self time and space to enjoy the expe­ri­ence. By accept­ing help from oth­ers, I found I thor­ough­ly enjoyed telling my own sto­ry to peo­ple who were fas­ci­nat­ed by my world with­out hav­ing to wor­ry whether the cake had run out or some­one had mis­laid their car keys!
Sign up to our mailing list(s)
You are now subscribed!
You are signed up to the mailing list(s) you selected.
If you no longer wish to receive emails from us, every email we send contains a link at the bottom allowing you to unsubscribe with one click. Privacy Policy.