Well over two hun­dred and fifty thou­sand peo­ple attend­ed LEAF Open Farm Sun­day events to show their sup­port for British farm­ing and have a fun, infor­ma­tive fam­i­ly day out.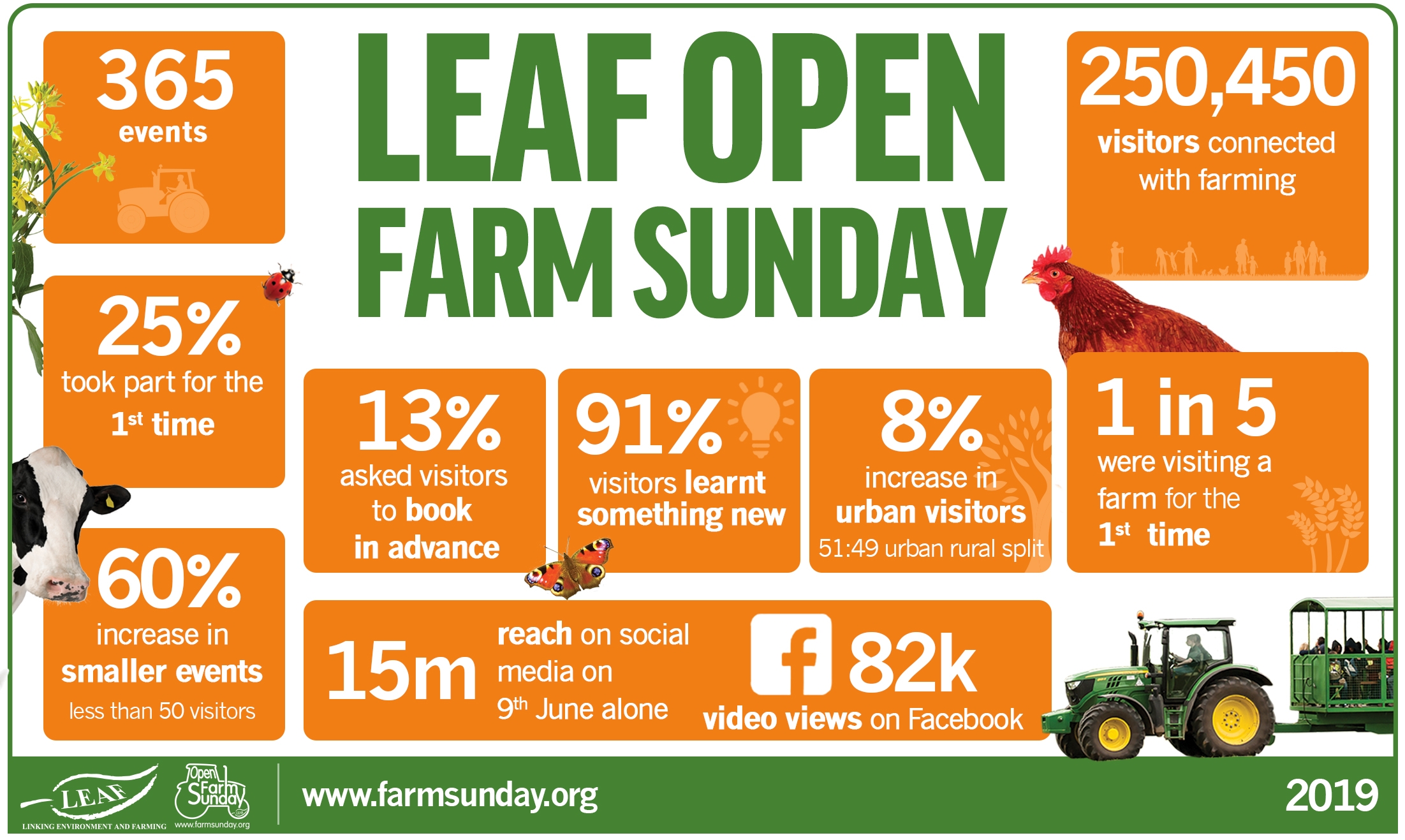 Farmer feed­back
"This was our best ever event. The weath­er played ball, but more than that, we have improved our offer­ing, and as the event grows each year and the good word spreads, more and more peo­ple attend."
William Church, The Jer­sey Roy­al Company
"Our first OFS and a resound­ing suc­cess! We had about 600 peo­ple through the gates and the day had a great, relaxed, fam­i­ly vibe. The ani­mals on dis­play are always a crowd pleas­er and of course trac­tor and Trail­er tours are a big hit. Plen­ty to see and lots to do for the chil­dren real­ly helped engage the pub­lic with the event and hope­ful­ly helped to bridge the dis­con­nect between farm­ing and the pub­lic."
Meg Wal­ters, Low­er Hurst Farm
"Open Farm Sun­day 2019 was a huge suc­cess. With farm­ing and food sup­ply in the news so much over the last 12 months vis­i­tors where keen to know more about how we are pro­duc­ing food and look­ing after soils and the wider envi­ron­ment."
Nick Down, Yat­ten­don Estates
Vis­i­tor feedback
"The farm­ers from old to the young farm­ers were so friend­ly and hap­py to share their knowl­edge. Won­der­ful day!"
"What a won­der­ful day for the fam­i­ly. Lots of fun and lots of learn­ing for all involved. It was love­ly to hear the farm­ers shar­ing their work so passionately."
"It was a priv­i­lege to be able to see inside a work­ing farm, and we were blown away by the gen­eros­i­ty of the day."
"It's stim­u­lat­ing, inter­est­ing, fun and fab­u­lous­ly amaz­ing way to enjoy a work­ing farm what­ev­er age."
"An hon­est insight into a lifestyle of work­ing with and for the countryside."
"A bril­liant fam­i­ly day out. So many kind and car­ing farm­ers show­ing off the best they can do. They real­ly care and are hap­py for every­one to know it. Love farming."
"The size and scale of the farm was amaz­ing and how well man­aged and clean every­thing was. It was inter­est­ing to see the full cycle of the farm from the ground to the plate."
"There's noth­ing to hide about farm­ing. The pub­lic, more so now than ever want to know where their food comes from. We need a farmer three times a day; break­fast, lunch and dinner."
Pho­to­graph pro­vid­ed cour­tesy of Craig Stephen.
Sign up to our mailing list(s)
You are now subscribed!
You are signed up to the mailing list(s) you selected.
If you no longer wish to receive emails from us, every email we send contains a link at the bottom allowing you to unsubscribe with one click. Privacy Policy.